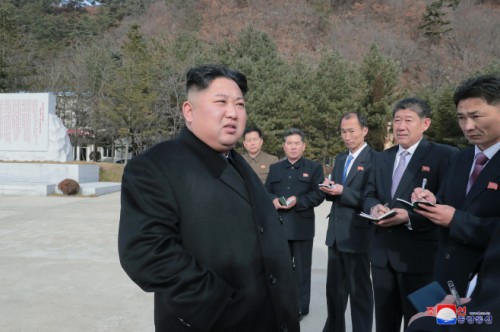 In an article contributed to the U.S. political newspaper The Hill titled, "2019 is shaping up to be the Year of North Korea", Harry J. Kazianis, director of defense studies at the Center for the National Interest, said that what the Trump administration does in the next few weeks would decide whether the North Korea challenge reverts to threats of nuclear war — or advances to full-blown détente. The image shows North Korean leader Kim Jong-un giving field guidance at Taegwan Glass Factory in North Pyongan Province, North Korea. Kim's visit was announced by North Korea's Korean Central News Agency (KCNA) on November 18./ Source: KCNA=Yonhap News
By AsiaToday Washington correspondent Ha Man-joo
Amid signs that negotiations between North Korea and the U.S. are stalling, some experts argue that the next few weeks will be a crucial turning point for denuclearization talks.
In an article contributed to the U.S. political newspaper The Hill titled, "2019 is shaping up to be the Year of North Korea", Harry J. Kazianis, director of defense studies at the Center for the National Interest, said that what the Trump administration does in the next few weeks would decide whether the North Korea challenge reverts to threats of nuclear war — or advances to full-blown détente.
"America is faced with a growing challenge that might not be easily solved: A North Korea, with nuclear weapons, that increasingly is accepted by the international community," Kazianis said. "With Russia and China eager to encourage warmer economic and diplomatic relations with Pyongyang, and South Korea more concerned about non-nuclear military challenges coming from North Korea, Washington increasingly appears out of step with international public opinion." He raised questions about Washington's hardline policy on sanctions against Pyongyang, and insisted that the U.S. should accept the North's demands for a declaration that the Korean War is over.
"Short of war, there is little Washington can do to get Pyongyang to give up its weapons of mass destruction and missile technology," he said. "In fact, the administration's recent hardline position of demanding full nuclear disarmament before any sanctions relief will only push Kim to strengthen ties with Beijing and Moscow. South Korea also will be thrust into the worst of predicaments, perhaps having to choose between preserving a decades-old alliance with America or missing an opportunity to forge a relationship with the North," he pointed out.
"America can create a set of conditions that virtually guarantees peace on the Korean Peninsula," Kazianis said. "That means offering to end the Korean War, once and for all, in exchange for a dramatic gesture of denuclearization by the North – something Pyongyang has hinted at several times," he said. "Trump could announce via Twitter that he would accept such an agreement, showing Kim that he is quite serious about peace while testing North Korea's true intentions – and making it difficult for Kim to say no or change his mind," he said. "So, although 2019 might be the Year of Kim Jong Un, that doesn't have to be a bad thing for America or the world."
"It will require some 'outside-of-the-box' thinking, flexibility and strategic smarts," he said. "There is no reason that permanent peace cannot take hold on the Korean Peninsula."