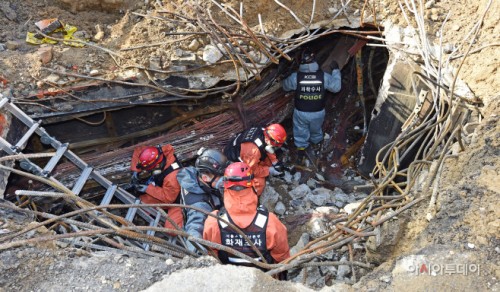 Police and fire authorities survey the site of the incident in Ahyeon-dong, Seoul, where the fire broke out on Saturday./ Photographed by Song Ui-joo (songuijoo@)
AsiaToday reporter Maeng Sung-kyu
A weekend fire at a building belonging to the country's second largest mobile carrier caused a network blackout in many parts of central Seoul. Police and fire authorities have jointly begun investigating the cause of the fire on Sunday.
"The first investigation showed that about 79 meters of a cable tunnel in the basement of the building has been destroyed by fire," a police official said. Police and other related organizations will be looking into the exact cause of the incident through the second joint investigation at 10 a.m. on Monday.
According to the police and fire authorities, the fire broke out at around 11:12 a.m. at the KT Corporation building located in Seoul's Ahyeon district. A total of 210 fire personnel and 62 equipment vehicles were mobilized, and the fire was fully extinguished at around 9:26 p.m., about ten hours after the first report was made.
The operation of shops, such as coffee shops, convenience stores and restaurants in the area, was disrupted as the incident paralyzed their credit card payment systems that use KT's communication network.
In particular, some problems occurred in police communication network that used KT network, and payment systems were paralyzed in the districts of Seodaemun-gu and Mapo-gu.
Despite no casualties reported, fire authorities said the fire at the building that held 168,000 telephone wires and 220 sets of fiber optic cables is estimated to have incurred some 8 billion won ($7 million) in property losses.
Meanwhile, KT Chairman Hwang Chang-gyu visited the site of the incident to apologize for the inconvenience and damage caused and emphasized his willingness to normalize the network immediately.
Local fire authorities and KT estimated that a full recovery would take about a week.