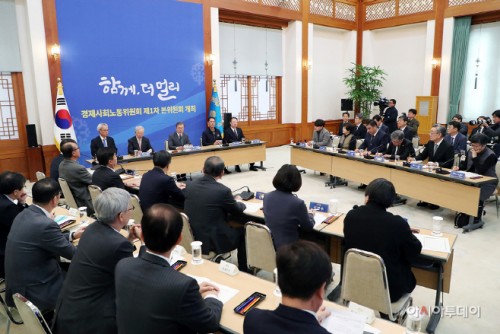 The Economic, Social and Labor Council (ESLC) has been officially launched at Cheong Wa Dae on Thursday./ Source: Cheong Wa Dae
By AsiaToday reporter Lee Seok-jong
President Moon Jae-in expressed his strong will to implement any consensus or agreement reached by the new Economic, Social and Labor Council (ESLC), a dialogue body officially launched on Thursday.
In his opening remarks at the inaugural meeting of the council at Cheong Wa Dae, Moon said, "The Economic, Social and Labor Council is legally a presidential advisory body, but I intend to treat the council as a decision-making body."
"An advisory body could be little more than a name or a decorative body depending on what it does. But I will support the council as much as I can. My attendance at the first meeting reflects my expectation on the council," the president said.
"I will use all my power as president so agreements made by the council will be implemented," he said. "I will do everything I can to ensure that every department of the government is bound by agreements reached by the council."
"If the government unilaterally pursues legislation without the parliament's approval, it could cause political troubles. But if the council agrees, I am certain that the parliament will respect it."
Regarding the issue of the flexible work hour system, Moon said, "If the council brings up the issue at the meeting for discussion, it could create a system that eliminates side effects such as long labor, and a system to protect wages. In order to do this, the labor world needs to actively take part in discussing the issue."
"If the council discusses the flexible work hour system, the National Assembly will also wait for the result," Moon said. "As president, I will ask the National Assembly for more time."
Moon expressed regret about the absence from the meeting of the Korean Confederation of Trade Unions (KCTU), a major umbrella group. "I hope the KCTU will join the body as early as possible. The KCTU's participation will be a great help to the labor community."
"Instead of struggling to realize our own objectives, we must find reasonable alternatives through dialogue, concessions, consensus and burden sharing," he said.
At Thursday's meeting, the council approved plans for launching a new committee dealing with flexible working hours.