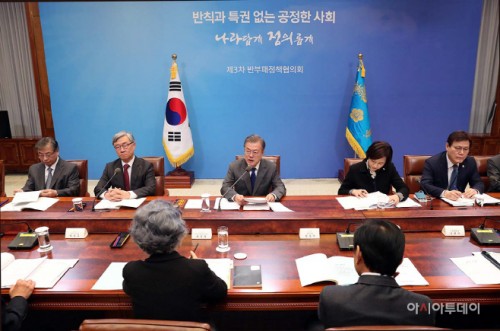 President Moon Jae-in speaks at an anti-corruption policy coordination meeting held at Cheong Wa Dae on November 20./ Source: Cheong Wa Dae
By AsiaToday reporter Lee Seok-jong
President Moon Jae-in urged the cabinet and his aides Tuesday to speed up anti-corruption drive while stressing efforts to eradicate irregularities deeply embedded in everyday lives.
In an anti-corruption policy coordination meeting held at his office Cheong Wa Dae, Moon said, "It is not easy to change the rules that have taken root for decades of years. I will make the first step to take responsibility myself, and I ask for your commitment as well." The meeting was the third of its kind since President Moon took office.
During the meeting, Moon was briefed about nine types of corruption. Those types include corruption at kindergartens, unjust academic admissions and hiring, the abuse of power in the public sector, subsidy fraud, unlawful issuance of planning permissions, tax evasion, and fraud against the elderly, especially in nursing homes.
The government decided to set up a governmental council to discuss measures to tackle irregularities in everyday lives that leave people feeling a sense of loss and deprivation.
"Recently, public anger is rising against corruption at kindergartens and schools, and over power abuse scandals," the president said. "During the five years of the Moon Jae-in administration, we should be determined to implement strong anti-corruption policies and leave behind a clean and incorrupt country."
"We must strengthen our commitment to eradicate corruption in the public sector primarily where financial aids are awarded," Moon said.
"The people have supported power-related corruption investigations with faith. The people have high hopes for a fair society," he said. "We should not be afraid of drastic reforms to fight corruption."
"'We need to speed up the reforms from what we can improve immediately without the need to revise any regulations. Along with it, we need to gradually establish a systematic basis."