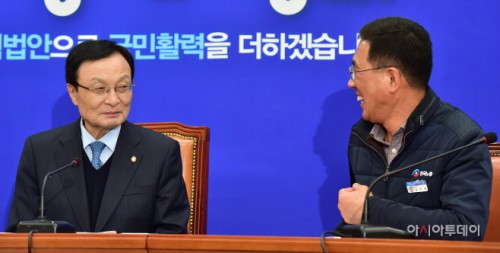 Ruling Democratic Party of Korea (DPK) Chairman Lee Hae-chan talks with Kim Ju-young, head of the Federation of Korean Trade Unions (FKTU), at the high-level policy consultative meeting held at the National Assembly on Monday. /Photographed by Lee Byung-hwa (photolbh@)
By AsiaToday reporter Lee Seok-jong
The Economic, Social and Labor Council (ESLC) will be officially launched on Thursday.
President Moon Jae-in will invite officials to the Blue House for the launching ceremony of the council in an attempt to restore social dialogue and cooperation among the government, business and labor.
Immediately after the event, the first meeting of the council will be held with President Moon in attendance.
"The first meeting of the ESLC will be held at the Blue House on Thursday. President Moon will invite officials to the meeting," Blue House spokesperson Kim Eui-kyeom said in a briefing.
"It is meant to encourage the accomplishments of the body, such as restoring social dialogue, reorganizing the body, and drawing up consensus, and to emphasize the significance of starting new social dialogue," the spokesman said.
"The ESLC is the biggest frame to have a dialogue with labor. It is meaningful to launch the ESLC as a starting point to have a conversation with the labor community about our general social issues," Kim said.
As President Moon has come forward to communicate with labor forces through the ESLC, the ruling party also embarked on a dialogue with the labor world. The ruling Democratic Party of Korea (DPK) held a high-level policy consultative meeting with the Korean Confederation of Trade Unions (KCTU) in the National Assembly on Monday.
The attention is whether the ESLC will create a chance to settle intensifying conflicts between the government and labor over flexible work hours and minimum wage hike.