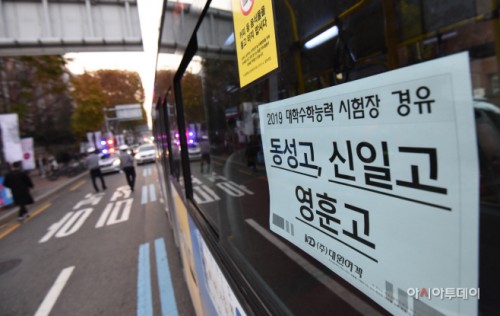 Third-year students enter the school gate as their juniors cheer for them at Dongsung High School in Seoul on Thursday./ Photographed by Jung Jae-hoon

By AsiaToday reporter Kim Beom-joo
The College Scholastic Aptitude Test (CSAT), better known as suneung, took place in 1,180 designated schools around the country on Thursday. Last year, the nationwide college entrance exam was postponed by one week due to a magnitude 5.4 earthquake near Pohang shook the nation and damaged some school buildings ahead of the exam. Fortunately, the exam took place without such incident. A typo was found in the paper of the Korean language exam, but it did not lead to great confusion among students solving the questions.
Many officials of the entrance examination said that this year's suneung questions for Korean language and mathematics were similar or relatively harder in difficulty to that of last year. The test questions for the Korean language were transformed flexibly to evaluate the learning objectives and learning activities presented in the 'Speech and Writing', 'Reading', 'Grammar', and 'Korean Literature' textbooks.
Analysts said that relatively not-so-hard questions were set for 'Speech and Writing' and 'Grammar' exams, but there was one hard-level question for 'Korean Literature' and 'Reading' exams.
Regarding the matter, the corps of teachers for college admission counseling of the Korea Council for University Education said, "Test-takers would have felt difficult to manage their time because there were problems that combined novels and scenarios."
The test questions for the subject mathematics were similar in difficulty to that of last year and the government-commissioned mock test conducted in last September. However, the so-called 'killer questions', which are developed to differentiate the level of students, were relatively easier in difficulty for Mathematics type Ga compared to the previous year, but analysts said the questions didn't fail to assess the level of students.
The questions for English exam, which adopts absolute grading, were harder than the last year's exam, but similar to that of the September mock test.
Meanwhile, the Korea Institute of Curriculum and Evaluation (KICE), which manages CSAT, will accept complaints about the test questions through its official website until November 19.
The evaluation period will run from Tuesday, November 20 through Monday, November 26. The KICE will confirm and announce the correct answers on November 26, at 5 pm. Students' results are scheduled to come out on December 5.