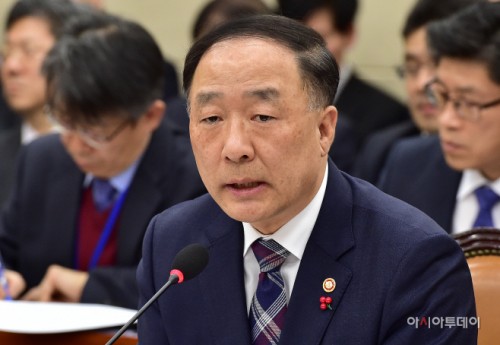 Finance Minister nominee Hong Nam-ki/ Photographed by reporter Lee Byung-hwa
By AsiaToday reporter Ahn Jong-ho
"Innovation-based growth is important for national growth, and income-led growth is important to create a country where people can all live well. I will do my utmost to create an embracing country, with both innovation and income-led growth contributing to the economy," the finance minister nominee said Friday.
In a meeting with reporters on Friday, Hong Nam-ki said the country must improve its economic structure, carry out structural reforms and lay the foundation for sustainable growth, in order to revitalize the economy.
"I don't see any immediate improvements going into next year," Hong said. "Many economic indicators show that job and investment markets as well as the livelihood of the people are in poor condition. I'm taking it seriously. However, I am certain we can overcome it. I will consider that the economy is psychological, and see it with a hopeful view."
As for income-led growth, Hong said there are four types of content. "The first is helping the unemployed find jobs and earn money. The next thing is boosting consumption."
"The third is reducing household spending, and the fourth is expanding the social protection system," he said.
"Above all, it is urgent that the government secures the competitiveness of key industries," Hong said. "Related ministries will prepare measures and the government will announce a plan to strengthen key industries by the end of the year," he said.
The finance minister nominee stressed the importance of the service industry. "After discussing it within the economy team, I will seek ways to create jobs in the service industry."
He also emphasized the importance of starting a business. "There are job battle and startup battle around the world. The country's economy is mostly focused on the job market, and only 1 percent goes to the startup battle. Opening new businesses can lead to job creation."
Regarding new presidential chief of staff for economic policy Kim Soo-hyun, Hong said, "I have personally known Kim for years. We worked together during the Roh Moo-hyun administration 15 years ago. We will become a team. When he was the secretary for social affairs, we worked closely."