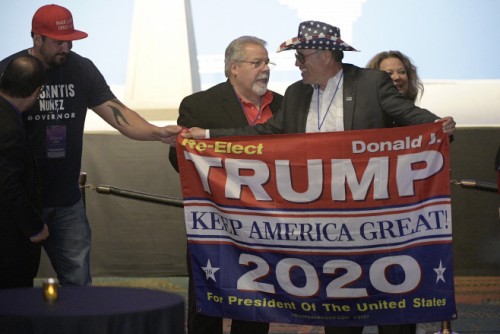 The US midterm elections ended with Democrats winning a House majority while Republicans retaining control of the Senate. The result means that Republicans no longer hold both wings of the US Congress, ending the GOP monopoly on power in Washington. The photo shows supporters of US President Donald Trump with "Keep America Great" sign in support of Republican candidates during the US midterm election on Tuesday./ Source: Yonhap News
By AsiaToday Washington correspondent Ha Man-joo
The US midterm elections ended with Democrats winning a House majority while Republicans retaining control of the Senate. The result means that Republicans no longer hold both wings of the US Congress, ending the GOP monopoly on power in Washington.
In Tuesday's midterm elections, Democrats regained control of the 435-member House of Representatives while Republicans maintained their majority in the Senate. As a result, some coordination with the US-North Korea denuclearization negotiations that have been conducted in a top-down management style seems inevitable. Besides, Democrats will try to impeach Donald Trump, accusing him of obstruction of justice related to the Russian scandal. They will be also able to stop Trump's legislative plans, such as tax cuts or cuts to Cabinet department budgets.
There won't be any major changes in Washington's North Korea policy after the US midterm elections, many experts believe. This is because there is not much policy difference between Republicans and Democrats, but the US-North Korea denuclearization negotiations are likely to be influenced in part.
The South Korean government believes there is not much difference between the two U.S. parties in relation to the direction towards denuclearization negotiations with North Korea, since Democrats have traditionally advocated engagement with the North and sought to resolve the North Korean nuclear crisis diplomatically. However, there are voices of concern within Democrats about the North's commitment towards denuclearization. It's because the North did not make substantial steps toward denuclearization following the Trump-Kim summit in Singapore in June while the Trump administration took measures, such as postponing joint US-South Korea military drills.
In addition, there have been comments about the Trump administration's not-so-systematic approach to denuclearization negotiations. Trump had cancelled his planned summit with North Korean leader Kim Jong-un back in May. Three months later, US Secretary of State Mike Pompeo also cancelled his planned trip to Pyongyang. Thus, the denuclearization talks, which have been heavily depending on the leadership of Trump and Kim, will come under tighter scrutiny by the Democrat-controlled House.
Determined to obtain more information about meetings by Trump and Mike Pompeo with Kim, the US House could call in US diplomats for hearings and demand more details about the denuclearization negotiations with the North.
Democrats could also try to impeach Trump as the process of impeachment has to be started by the House of Representatives. The obstruction of justice related to the investigation into Russian meddling in the 2016 presidential election can be grounds for Trump's impeachment.