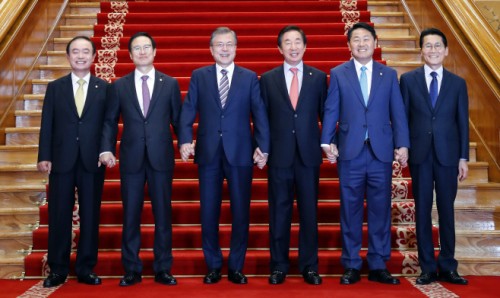 President Moon Jae-in and the floor leaders of the five ruling and opposition parties pose for a photo ahead of their first regular policy consultation meeting at Cheong Wa Dae on Nov. 5. (From left: Chang Byoung-wan of the Party for Democracy and Peace, Hong Young-pyo of the ruling Democratic Party, President Moon Jae-in, Kim Sung-tae of the main opposition Liberty Korea Party, Kim Kwan-young of the minor opposition Bareunmirae Party, and Youn So-ha of the most progressive Justice Party.)/ Source: Yonhap News
By AsiaToday reporter Lee Seok-jong
President Moon Jae-in told parliamentary floor leaders Monday that it is uncertain whether North Korean leader will visit Seoul within this year as promised because the visit is linked closely to a second summit between the North and the United States.
"The government is coordinating various opinions on whether Kim's visit should take place before or after the North-US summit that has been postponed until early next year," the president said. "For now, we are making preparations on the assumption that it's going to happen by the end of this year."
President Moon Jae-in had his first regular policy consultation meeting with the floor leaders of five political parties at the presidential Cheong Wa Dae. Moon and the floor leaders held in-depth discussions on diplomatic security, economy, and politics in general.
The 160-minute meeting included Hong Young-pyo of the ruling Democratic Party, Kim Sung-tae of the main opposition Liberty Korea Party, Kim Kwan-young of the minor opposition Bareunmirae Party, Chang Byoung-wan of the smallest opposition Party for Democracy and Peace, and Youn So-ha of the most progressive Justice Party.
The president and the five floor leaders have reached an agreement on 12 categories covering the general state affairs.
In connection with the security issue, Moon and the floor leaders agreed to cooperate in a bipartisan manner to realize complete denuclearization and permanent peace on the Korean Peninsula.
Moon said he hopes Kim's visit to Seoul will be realized so it can serve as a breakthrough in inter-Korean relations. "I hope the National Assembly will release a statement welcoming Chairman Kim's Seoul visit," the president said.
Regarding the National Assembly's ratification of Panmunjom Declaration, Moon said, "I certainly hope to have the declaration ratified, but I will not hurry."
On economic issues, President Moon and the floor leaders agreed to cooperate on legislative and budgetary measures aimed at improving the livelihoods of ordinary people based on a common understanding that the economic situation is severe.
In particular, they decided to take all legislative and budgetary measures to support small business owners and low-income families.
They also agreed to cooperate on a number of issues, such as ensuring fair hiring and promoting reconciliation between labor and management for revitalization of the economy.
In order to improve the fairness of hiring, they decided to push for legislative and institutional improvements. In order to tackle difficulties of enterprises, they decided to take supplementary legislative measures, such as expanding flexible working hours.
Regarding political issues, Moon and the floor leaders agreed to discuss lowering the legal voting age to 18 and electoral reforms.