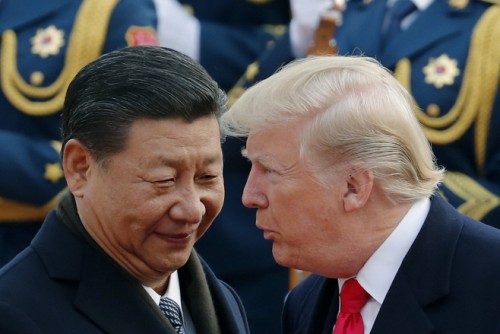 US President Donald Trump and Chinese President Xi Jinping are likely to seek to ease trade tensions at the upcoming meeting scheduled to take place in Argentina this month./ Source: Beijing AP=Yonhap News
By AsiaToday Washington correspondent Ha Man-joo
The upcoming Xi-Trump summit next month after the G20 summit in Buenos Aires is raising hopes of an easing in U.S.-China trade tensions. Chinese President Xi Jinping has shown a strong desire to resolve the trade dispute between China and the United States, while US President Donald Trump has asked his officials to begin drafting terms for a trade deal with China after his phone conversation with Xi. However, the solution is likely to be a truce in the trade war, where China offers measures to meet US requirements and more details are negotiated later rather than negotiating all the issues at once.
Xi met with Japanese Prime Minister Shinzo Abe on Oct. 26 at the Diaoyutai State Guesthouse in Beijing, where he told Abe his ties with Trump are dandy, Japan's Asahi Shimbun reported Saturday. Xi's remark suggests that he is eager to resolve trade friction between Beijing and Washington, according to Asahi Shimbun. Indicating he thought the criticism was directed more at China than him personally, Xi told Abe, "Trump has never criticized me by name."
Besides, Xi was interested in the golf meeting of Abe and Trump, and asked Abe, "What does Trump talk about when you are playing golf with him?" "Xi was eager to improve his relationship with Trump," reported Asahi Shimbun, citing a government source.
After having a phone conversation with Xi, Trump asked his aides to begin drafting ideas for an agreement to take to his planned meeting with Chinese President Xi Jinping at the Group of 20 summit in Argentina Nov. 30 to Dec. 1, Bloomberg reported Friday, citing unidentified sources.
Regarding the phone conversation with Xi, Trump said in a tweet that he had a "long and good [phone] conversation" with Xi, adding: "We talked about many subjects, with a heavy emphasis on Trade. Those discussions are moving along nicely with meetings being scheduled at the G20 in Argentina." Xi said the upcoming China International Import Expo (CIIE), which is the first of its kind in the country, has shown China's willingness to increase import and further expand its opening-up. "There were successful examples in the past that China and the United States solved their trade differences through coordinated cooperation," said Xi, China's official Xinhua News Agency reported.
Considering the status of 'One-Man' Trump and 'Emperor' Xi, the positive remarks of the two leaders are expected to create a deal that eases trade tensions between the two countries at the summit to be held on Nov. 29. "The best possible outcome of the Xi-Trump meeting would be a suspension of tariffs on each other," Renmin University international relations professor Shi Yinhong said.
Bloomberg reported last month that the Trump administration is preparing for a possible truce on an escalating trade war between the world's two largest economies during the Xi-Trump summit. It is one of those possibilities to postpone a plan to raise the tariff rate on $200 billion worth Chinese imports from 10% to 25% in January, according to Bloomberg.