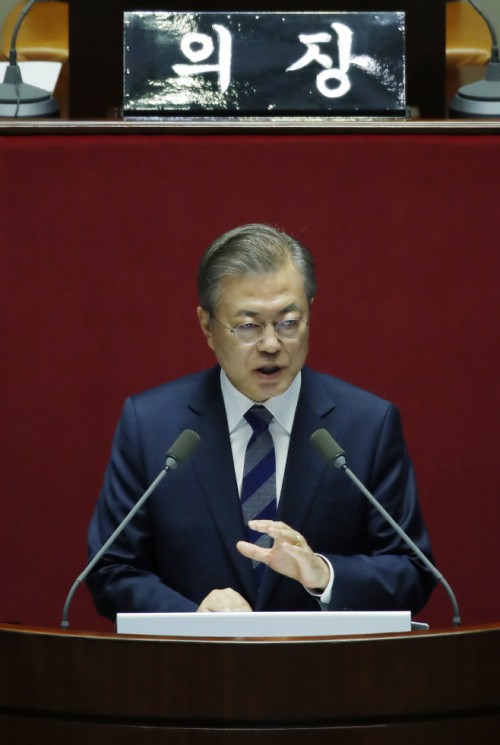 President Moon Jae-in delivers his budget speech in the National Assembly on Thursday./ Source: Yonhap News
By AsiaToday reporter Lee Seok-jong
President Moon Jae-in on Thursday promised to build an embracing nation and pursue a peaceful Korean Peninsula.
"Pursuing an embracing nation, where people live well together, is the way we should go, and the mission given to our government," Moon said during his budget speech in the National Assembly. "Along with an embracing nation, a peaceful Korean Peninsula is another axle that drives a sustainable Korea."
"We have to be a nation where people feel at ease within social safety nets and welfare programs, where fair opportunities and just outcomes are guaranteed, and where not a single person is discriminated against. That is an embracing nation where people live well together," the president said.
Moon said the budget is focused on supporting vulnerable groups and expanding social safety nets to pursue an embracing nation. "We also put a great deal of effort into enhancing the safety and quality of life for the people in an era where per-capital gross national income surpasses $30,000."
"We will help people achieve their dreams by creating jobs, and will pursue innovative growth in earnest," he said. "We will set aside 23.5 trillion won, up 22 percent from this year, for job-related projects."
Moon said the budget is mainly allocated for ensuring innovative growth, increasing household incomes, strengthening social safety nets, and improving public safety and quality of life of the people.
"The historic starting line toward co-prosperity of the Korean Peninsula and Northeast Asia is in sight. We should not miss an opportunity that came like a miracle," Moon said.
"Three inter-Korean summits and the historic North Korea-US summit were held for the past year. South Korea and DPRK completely eliminated the danger of military conflicts on the peninsula via the comprehensive military agreement," he said. "The two Koreas and the United States will achieve the peninsula's complete denuclearization and the settlement of permanent peace based on a firm trust among the three parties."
"The second US-North Korea summit is just around the corner while a visit to Russia by Chairman Kim Jong-un and a visit to North Korea by Chinese President Xi Jinping are expected to take place soon. The possibility of a North-Japan summit remains open and a return visit to Seoul by Chairman Kim will also take place soon," he said.
"We will create peace with strong security and national defense," Moon said. "Peace will be a new growth engine for our economy."
President Moon also promised to turn South Korea into a "righteous country", and vowed to make an endless effort to clean up deep-rooted evils.
"The people want a society that does not tolerate even little injustices and irrationalities in daily life," he said. "In response to the demands of the people, the government will clean up deep-rooted evils in daily life."