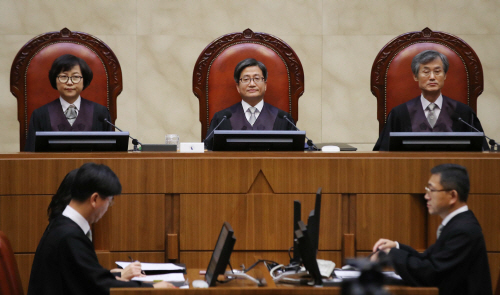 The Supreme Court on Tuesday ordered Nippon Steel & Sumitomo Metal Corp. (NSSM) to pay 100 million won (USD$ 87,740) in compensation to each of the four victims, who were forced to work in its factories during the Japanese occupation of the country./ Source: Yonhap
By AsiaToday reporter Heo Gyeong-joon
The Supreme Court ordered Tuesday a Japanese steel firm to compensate four Koreans, who were forced to work in its factories during the Japanese occupation of the country, and upheld the damages claims filed by the victims.
The ruling provided effective closure to a long-pending battle that began more than 13 years ago.
The Supreme Court ordered Nippon Steel & Sumitomo Metal Corp. (NSSM) to pay 100 million won (USD$ 87,740) in compensation to each of the four victims, including former Yeo Woo-taek, recognizing their rights to claim damages despite the 1965 Korea-Japan Normalization Treaty.
The courts said the treaty did not terminate the victims' rights to sue for damages because they are seeking to be compensated for their suffering inflicted by Japanese firms' anti-humanitarian, illegal acts related to illegal colonial rule of the Korean Peninsula and war of aggressions. The court said the right to compensation for forced labor is not subjected to the treaty.
The court said the 1965 Korea-Japan Normalization Treaty does not terminate individual rights to damages. "The treaty was meant to settle the financial and civil claim-obligation relations between the two countries by political agreement," the court added.
The court ruled that the Japanese courts' rulings went against Korea's Constitution, and rejected the Japanese company's argument that it was a different entity from the steelmaker that employed the South Koreans during the war.
The court also dismissed the Japanese firm's claims that legally too much time had gone by and that it was not longer responsible. It called the claim an abuse of rights and a violation of the principle of good faith.
The victims filed a damages suit in Japan in 1997, claiming that they were forced to work in NSSM between 1941 and 1943 without getting paid. But they lose the case and it was finally rejected by Japan's top court in 2003.
The damages lawsuit filed in South Korea in 2005 by the victims were rejected by the low and high courts. The courts had said the ruling by the Japanese courts did not violate goodwill and social order, and that Japan had already compensated by signing the Korea-Japan Normalization Treaty.
However, the Supreme Court ruled in 2012 that the forced labor itself was against the core constitutional values of the Republic of Korea, sending the case to the Seoul High Court.