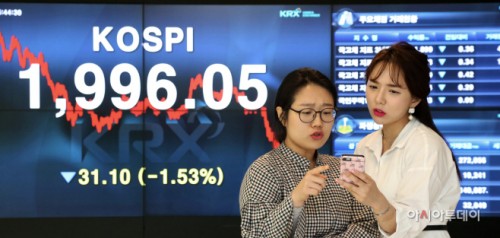 The benchmark Korea Composite Stock Price Index (KOSPI) closed down 31.10 points, or 1.53 percent, at 1,996.05. It is the first time the main index has finished this low since closing at 1,991.89 on December 7, 2016./ Source: Korea Exchange
By AsiaToday reporters Jung Dan-bi
The benchmark Korea Composite Stock Price Index (KOSPI) lost the psychologically-important 2,000 mark for the first time in 22 months on Monday. The tech-heavy KOSDAQ also sank more than 5 percent. The financial authorities presented a measure to stabilize the stock market in relation to the highly volatile Korean stock market, but failed to boost investor sentiment.
According to the Korea Exchange on Monday, KOSPI closed down 31.10 points, or 1.53 percent, at 1,996.05. The main KOSPI, which opened at 2026.68, down 0.47 points from Oct. 26, seemed to rebound on foreigners' and institutional purchases but fell below 2,000 on continued selling by foreign investors. It is the first time the main index has finished this low since closing at 1,991.89 on December 7, 2016.
The Financial Services Commission (FSC) held an emergency meeting with institutional players on Monday in Seoul to analyze the situation and discuss measures for stabilizing the capital market.
"The government will create funds of up to 500 billion won ($438 million) to inject into the bourse, as part of its market stabilizing effort," Kim Yong-beom, vice chairman of the Financial Services Commission, said at the meeting.
"Also, the government will establish a fund of at least 200 billion won in order to invest into KOSPI and KOSDAQ to strengthen its role as a stabilizing fin in the stock market," Kim said.
However, the measure was not enough to boost investor sentiment. Foreign and individual investors sold 487.4 billion won ($426.8 million) and 160.6 billion won ($140.6 million) worth of stocks, respectively, extending decline. Local financial institutions bought 636.2 billion won ($557.1 million) worth of stocks but failed to raise the index.
Blue-chip shares ended mixed. Samsung Electronics (0.98%), LG Chem (0.74%). SK Telecom (0.36%). KB Financial Group (1.18%), Shinhan Financial Group (1.72%), SK Innovation (0.73%), and Hyundai Mobis (0.53%) closed advanced. In contrast, SK Hynix (-0.30%), Celltrion (-4.39%), Samsung BioLogics (-2.55%), POSCO (-1.32%), Hyundai Motor (-1.85%), and SK (-0.39%) sank.
The KOSDAQ tech stocks index fell 33.37 points, or 5.03 percent, to end the day at 629.70. Individuals net sold 304 billion won ($266.2 million), pulling down the index. Foreigners and institutions net bought 104.9 billion won ($91.8 million) and 189.8 billion won ($166.2 million), respectively.
"The recent fall of domestic stock markets has been mainly driven by the escalating U.S.-China trade war," said Yang Ki-in, a researcher at Shinhan Investment Corporation. "The trade war is seemingly turning into a hegemonic war. As the trade war is prolonged, there is a sense of uncertainty about the impact on domestic companies and the economy."