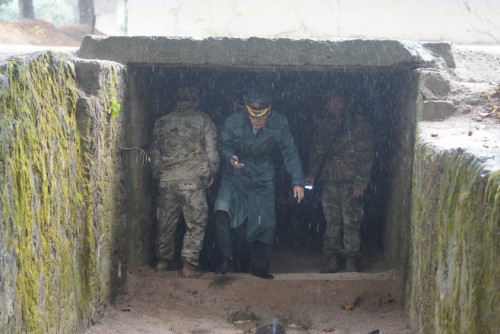 The Ministry of National Defense said Sunday that the Koreas and the United Nations Command (UNC) wrapped up their two-day joint JSA disarmament verification. The photo shows some South Korean military officials verifying the JSA disarmament./ Source: The Ministry of National Defense
By AsiaToday reporter Lee Seok-jong
The North and South Korean militaries and the United Nations Command (UNC) have confirmed Sunday that the disarmament steps of the Joint Security Area (JSA), the first measure of implementation of the Sept. 19 military agreement, were transparently carried out. As a result, the JSA, the symbol of division, has turned into a symbol of peace and unity.
Tourists visiting Panmunjom will be able to walk freely across the border within the JSA once the disarmament and related procedures, such as installation of additional guard posts, are complete this year.
"The Koreas and the UNC have conducted a joint verification work for all posts and facilities in the JSA for two days from Oct. 26 to 27 to check the actual implementation of the JSA disarmament," the South Korean Ministry of National Defense (MND) said.
"Through the joint verification work, the three sides directly confirmed the fact that mutual disarmament steps were faithfully carried out in all JSA areas," the ministry said. "We have decided to make continuous efforts to properly implement the Sept. 19 military agreement and turn the JSA into a symbol of peace and harmony through the JSA disarmament."
The three parties verified the implementation of demilitarization measures that have been carried out since the first day of this month, including mine removal work, firearms and guard post removal, and adjustment of security personnel.
"The two Koreas and the UNC affirmed that the disarmament steps successfully took place for the first time since the JSA was set up in 1953," a defense ministry official said. "Through a three-party consultation meeting, we will discuss additional issues for the disarmament implementation, such as procedures to open new military posts for the management of the disarmed JSA and readjust surveillance equipment."
As a result, tourists visiting the JSA will be allowed to cross the border starting next month, when the installation of new military posts and surveillance equipment are expected to complete.
Previously, the defense ministry informed the North of the ratification procedure of the Sept. 19 inter-Korean military agreement and effectuated the agreement during the 10th round of general-level military talks at Panmunjom on Oct. 26.
At the talks, the North and the South agreed to completely destroy 11 front-line guard posts by the end of November, and jointly verify the results in December.
In addition, the two Koreas decided to hold a working-level consultation to eventually withdraw all guard posts.