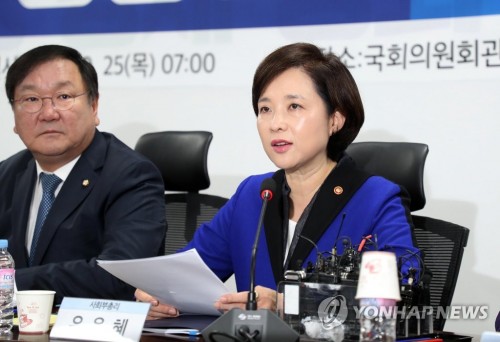 Yoo Eun-hae, new education minister and deputy prime minister on social affairs, speaks during a meeting at the National Assembly on Thursday./ Source: Yonhap
By AsiaToday reporter Kim Beom-joo
The government and ruling Democratic Party of Korea (DPK) announced a set of measures Thursday to improve accounting transparency of private kindergartens, following a nationwide audit revealing widespread corruption among private kindergartens, such as accounting fraud and budget misappropriation. The measures are based on the awareness that there are not enough manuals for the government to watch purchases made at private kindergartens despite the fact that approximately 2 trillion won is budgeted every year to support them. The measures also reflect the government's willingness to strengthen its responsibility to provide a good education to preschoolers.
The measures include boosting the number of kindergarteners going to public institutes to up to 40 percent at an early date, adding some 1,000 new classrooms of public kindergartens, and applying a state accounting system currently used in schools, called Edufine, to all private kindergartens by 2020. Edufine allows the government to watch purchases made at all public education institutes in real time.
First, the government decided to fully fix the kindergarten accounting system that caused such irregularities.
The government will first conduct audits on large and expensive kindergartens as well as several other kindergarten operators in the first half of next year. If any kindergarten is suspected of tax evasion as a result of the audit, it will be notified to the National Tax Service.
The Ministry of Education will form a team dedicated to strengthening accounting transparency of private kindergartens. Since Oct. 22, the ministry has been operating new task forces inside respective education offices to carry out the monitoring of private kindergartens. In the province level, dedicated teams will be formed immediately to conduct regular inspections, operate reporting centers, provide comprehensive consulting services, and carry out crisis monitoring.
The number of public kindergartens will be expanded as well. The education ministry will add 1,000 new classes next year as part of efforts to achieve its goal of having 40 percent of preschoolers attending state-run facilities by 2021, a year earlier than initially targeted. The issue of teacher supply and demand will be further discussed with the Ministry of the Interior and Safety.
As the introduction of Edufine has triggered opposition from some private kindergartens, its adoption will be expanded gradually. According to the plan, large private kindergartens with more than 200 students will have to use Edufine starting March next year, while smaller institutes will be obliged to use the state's accounting system by 2020.
The government will also revise the Early Childhood Education Law to punish those who use subsidies for non-education purposes.
Kindergartens planning to suspend operations or refusing to recruit new students in protest of the measures will face serious administrative action.
Meanwhile, the Korea Kindergarten Association said, "The measures will make survival impossible for owners and operators of private kindergartens, who have contributed to child education for dozens of years. It is a shocking measure and we cannot repress our astonishment."