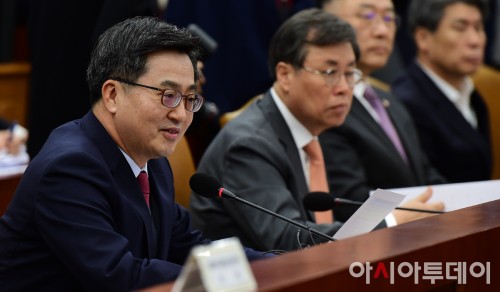 Finance Minister Kim Dong-yeon
By AsiaToday reporter Cho Sang-eun
The government has unveiled a set of measures that will bolster private investment and generate new jobs amid the stalled economy and a weak job market.
At a meeting for ministries related to the economy on Wednesday, South Korean Finance Minister Kim Dong-yeon announced measures to create more jobs and promote innovation-led growth.
The measures are centered on ways to revitalize private sector-led investment and create jobs in the public sector.
First, the government seems to be desperate to boost investment in the private sector.
The government will spend about 2.3 trillion won (US$2 billion) by the first half of 2019 to help advance private sector-led investment projects, including a plant construction project in Pohang's Yeongil Bay.
In addition, the government will embark on a 15 trillion-won (US$13.2 billion) financing program to promote corporate investment.
Large corporations as well as small- and medium-sized enterprises (SMEs) that are returning to the domestic market will be eligible for government subsidies, various tax incentives and rent cuts.
For example, those large corporations and SMEs that are returning to the domestic market will receive up to 10 billion won (US$ 8.8 million) subsidy for facilities.
The government will be expanding investment in the public sector as well.
It will raise its planned budget spending of major public institutions in housing, environment, security and renewable energy, to 26.1 trillion won (US$ 23 billion) next year from this year's 17.9 trillion won (US$ 15.8 billion).
Above all, the key to the latest measures is creating jobs.
As expected, the government announced plans to create 59,000 jobs at state and public organizations, including internships for public institutions.
The government also decided to lower taxes on refined fuel products by 15 percent for the next six months. The tax cut, which will take effect on November 6, will bring down the prices of gasoline by 123 won per liter and diesel by 87 won.
The temporary tax cut will amount to a 2 trillion won (US$1.76 billion) reduction in tax revenue for the government.
Experts say the latest measures may help increase the number of jobs in the short term but they fail to address the fundamental issues.
"Temporary jobs in the public sector are not sustainable. The quality of the jobs is poor," said Yoon Chang-hyun, a professor at University of Seoul.