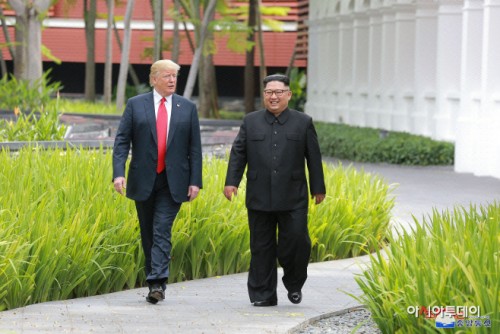 Reuters reported Friday that the second U.S.-North Korea summit is likely to happen "after the first of the year," citing a senior official at the Trump administration./ Source: Yonhap News
By AsiaToday reporter Kim Jong-won & Washington correspondent Ha Man-joo
There seems to be little progress in the denuclearization negotiations and end-of-war declaration. When the third inter-Korean summit in September and the fourth Pyongyang visit of U.S. Secretary of State Mike Pompeo on October 7 took place, the second North Korea-U.S. summit and the end-of-war declaration were likely to happen this year.
However, there is a slowly emerging gap between Washington and Seoul about the speed of engagement with Pyongyang with the Trump administration facing the mid-term elections next month. Besides, working-level talks for the second Trump-Kim summit are hardly taking place.
As a result, some observers claim that an end-of-war declaration is not likely to take place within this year. Besides, many believe the next summit meeting between U.S. President Donald Trump and North Korean leader Kim Jong-un will be pushed back to next year.
Trump reaffirmed Saturday that he will not rush into an agreement with North Korea, but things, he said, will go well. Reuters reported Friday that the second U.S.-North Korea summit is likely to happen "after the first of the year," citing a senior official at the Trump administration.
This indicates that the second Trump-Kim summit is likely to be delayed amid little progress towards actual denuclearization measures between the two countries.
"I'm very hopeful we'll have senior leader meetings here in the next week and a half or so between myself and my counterpart to continue this discussion," Pompeo told the Voice of America (VOA) on Friday. When asked if he expected a second summit between Donald Trump and Kim Jong-un "in the very near future", he replied briefly, "Yes."
Pompeo said the date of the second Trump-Kim summit had yet to be determined. "We're working on finding dates and times and places that will work for each of the two leaders," he said. Pompeo's use of the words "hopeful" and "working on" suggests that the North and the U.S. are not narrowing the gap in carrying out practical denuclearization measures and approaching the question of the timetable for denuclearization.
If an end-of-war declaration as well as the second Trump-Kim summit that the Moon administration is aiming to hold within this year are delayed to next year, the Moon administration is likely to face challenges with the inter-Korean economic cooperation projects and the improvement of inter-Korean relations that are closely linked with the North sanctions relief.