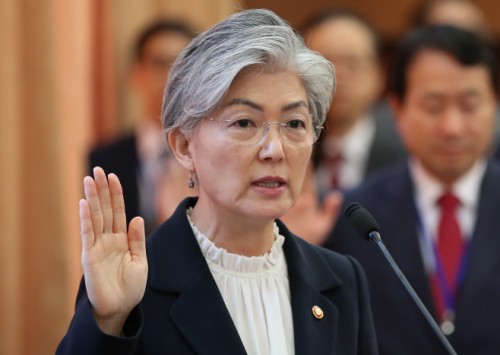 Foreign Minister Kang Kyung-wha takes an oath during a parliamentary audit of her ministry's in Seoul on Wednesday./ Source: Yonhap News

By AsiaToday reporter Heo Go-woon
Foreign Minister Kang Kyung-hwa said Wednesday that her ministry was "reviewing with relevant ministries" the lifting of the country's so-called "May 24" sanctions against North Korea. People are paying attention to whether May 24 sanctions, which have been imposed by the South in response to North Korea's sinking of the ROK navy Cheonan corvette, will be abolished after eight years since the enforcement in 2010.
Kang made the remarks at an annual parliamentary audit of government offices at the National Assembly on Wednesday, after being asked by Lee Hae-chan of the country's ruling Democratic Party.
Lee pointed out that Mount Geumgang tour was not blocked by UN sanctions, but May 24 sanctions. "I hope that many South Koreans have an opportunity to visit the North," Kang said. "But in order to do that in earnest, I think we need to think about funding and (UN) sanctions," she added.
The foreign minister later took more cautious stance related to lifting the sanctions. "I made the comment in the context that relevant ministries would always review it," Kang said. "There is no discussion at the level of the entire government."
"As May 24 sanctions are a significant administrative order, the government is continuously reviewing them. I didn't mean to say the review is underway at the level of the entire government," Kang said.
Liberty Korea lawmaker Kim Moo-sung criticized strongly, saying, "The unification ministry, which is in charge of the issue, has not even made an official announcement regarding this. But can the foreign ministry make such remarks now?"
The Ministry of Foreign Affairs later said in a text message sent to the reporters that the review of lifting the sanctions is not underway at the level of the entire government. "The sanctions against the North, including May 24 sanctions, should be reviewed as favorable conditions for denuclearization are created," an unification ministry official said.