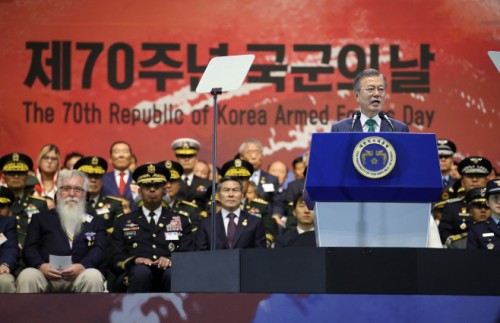 President Moon Jae-in delivers a speech at a ceremony held to commemorate the 70th Armed Forces Day at the War Memorial of Korea in Seoul on Oct. 1./ Source: Yonhap

By AsiaToday reporter Park Ji-sook
On this 70th anniversary of Korea's Armed Forces Day, President Moon Jae-in engaged in several activities focused on national security as the commander-in-chief of the country's armed forces while stressing the importance of military strength in the process of achieving lasting peace and prosperity on the Korean Peninsula. Moon's such efforts are aimed at relieving some concerns that a peace mood surrounding the Korean Peninsula may deteriorate national defense power.
The South Korean president presided over a ceremony with the highest level of courtesy to formally repatriate the remains of Korean soldiers killed in the Korean War. Moon personally presented war medals over the remains of 64 Korean soldiers who did not make it home 68 years ago. Moon is the first South Korean president to present war medals to all the remains returned.
President Moon also welcomed war veterans and military officials to the presidential complex for a luncheon for the first time for the Armed Forces Day celebrations. Moon expressed his deep appreciation for their dedication to peace.
He then attended a ceremony to commemorate the 70th Armed Forces Day in the evening. It is extremely unusual for a South Korean president to preside over three events commemorating Korea's Armed Forces Day in a single day. This reflects Moon's philosophy on peace and security as the commander-in-chief, who has emphasized honor to military servicemen who devoted themselves to the country.
"We still remember the horrors of war," Moon said at a ceremony marking the 70th anniversary of Korea's Armed Forces Day held at the War Memorial of Korea in Seoul. "This is why peace is more urgent for us. Without the sacrifice and dedication of our army, we would not have made a single step forward toward peace," he said.
"Now is the time for our military to stand in the very front of peace on the Korean Peninsula," Moon said. "At the September 19th Pyongyang Declaration, Chairman Kim Jong-un and I declared the end of the war between the South and the North and peace on the Korean Peninsula. But peace does not come at once. We must not forget that peace can last when it is based on our strength," he said.
"We are now moving toward an era of peace. Our honorable soldiers will write a new chapter in the history of the Korean Peninsula. I have infinite faith in our soldiers and will always work with you all," the president said.