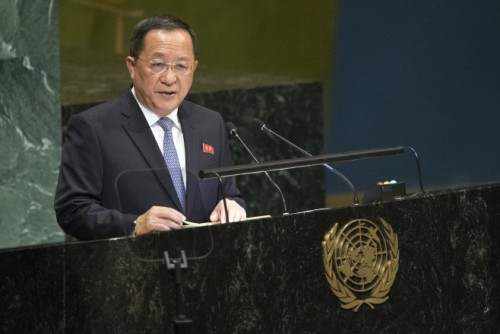 North Korean Foreign Minister Ri Yong-ho addresses the 73rd United Nations General Assembly on September 29, 2018, at the United Nations in New York./ Source: Yonhap News

By AsiaToday reporter Heo Go-woon & Washington correspondent Ha Man-joo
North Korea, which is about to resume negotiations with the United States, made clear its willingness to denuclearize, but strongly demanded "corresponding measures" from the U.S.. With North Korea's demand for trust, U.S. Secretary of State Mike Pompeo's next visit to Pyongyang is expected to mark a major watershed for denuclearization negotiations.
"Without any trust in the U.S., there will be no confidence in our national security and under such circumstances, there is no way we will unilaterally disarm ourselves first," said North Korean Foreign Minister Ri Yong-ho during his speech at the United Nations General Assembly in New York on Saturday.
Calling for more trust, Ri urged the United States to take corresponding measures during his 15-minute speech. "The commitment of the government of the Democratic People's Republic of Korea (DPRK) to denuclearization is solid and firm. However, it is only possible if the U.S. secures our sufficient trust towards the U.S.."
Most of all, North Korea's foreign minister emphasized that North Korea has taken significant "goodwill measures", such as stopping its nuclear and missile tests, and dismantling its nuclear test site in Punggye-ri. "In any case, we pledged not to proliferate nuclear weapons and nuclear technology," Ri said. This is the first time that North Korea announced openly to the international community that it will not proliferate nuclear weapons and technology, and it has become a pressing matter what this would impact on the North Korea-U.S. negotiations.
As North Korea publicly pledged not to proliferate nuclear weapons and nuclear technology, it is noteworthy how North Korea can cast away the doubts of the United States and the international community. However, Ri said, "The United States insists on the 'denuclearization-first' and increases the level of pressure by sanctions to achieve their purpose in a coercive manner, and even objecting to the 'declaration of the end of war."

◇ Pompeo may carry "corresponding measures" card on his fourth trip to the North
The North Korean foreign minister's comment was not new in that it reaffirmed North Korea's existing denuclearization negotiating strategy, but it clearly meant to urge the United States to change its position by claiming that it will not make unilateral concessions to the United States, ahead of Pompeo's fourth Pyongyang visit and the second Washington-Pyongyang summit.
Ri made no mention of U.S. President Donald Trump during his speech. He seems to have taken into account the fact that Trump expressed confidence in North Korean leader Kim Jong-un's commitment to denuclearization following the June 12 summit. Trump said on Saturday that he and Kim "fell in love" when they met each other.
Trump's attitude suggests that Pompeo might have a "corresponding measures" card in his hand on his trip to Pyongyang. Pompeo on Friday floated prospect of officially ending Korean War ahead of Trump-Kim summit. When asked if Trump and Kim could sign a declaration to end the Korean War at their next summit, Pompeo said, "But make no mistake about it, there is real progress being made."

◇ Experts say denuclearization talks need to be made multilaterally among North and South Korea, the U.S., and China
"The United States needs to shed its super hardline stance of maintaining sanctions until North Korea denuclearizes," Chung Sung-jang, director of unification strategy studies at the Sejong Institute, said. "If Pompeo takes a timetable of corresponding measures, the outcome of his trip to Pyongyang will be fruitful."

Ri maintained a friendly attitude toward South Korea and made statements that seemed to consider negotiations among Koreas and the United States. "If the party to the issue of denuclearization were South Korea and not the U.S., the denuclearization of the Korean peninsula would not have come to such a deadlock," Ri said.
"I believe the inter-Korean summit in Pyongyang and President Moon Jae-in's U.S. visit contributed significantly to the United States' more flexible position," Chung said. "There is a limit to leaving the issue of denuclearization only to negotiations between the North and the U.S.. It is necessary to start the framework of multilateral talks among either two Koreas, and the U.S. or two Koreas, the U.S., and China."