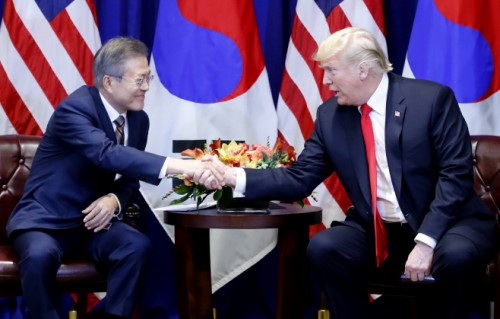 With the latest meeting of the United Nations General Assembly held in New York, the stalled U.S.-North Korea dialogue on denuclearization is getting back on track. /Source: Yonhap News

By AsiaToday Washington correspondent Ha Man-joo & reporter Joo Sung-sik
With the latest meeting of the United Nations General Assembly held in New York, the stalled U.S.-North Korea dialogue on denuclearization is getting back on track. With the latest Moon-Trump summit that is leading to the second U.S.-North Korea summit, the whole process of denuclearization of the Korean Peninsula is speeding up.
In particular, U.S. President Donald Trump and U.S. Secretary of State Mike Pompeo strongly suggested the possibility of a second round of talks with North Korea, raising hopes for 'declaring an end to the Korean War by the end of the year' proposed by the leaders of two Koreas in the April 27th Panmunjom Declaration.
The biggest achievement of President Moon Jae-in who attended the 73rd session of the United Nations General Assembly is the fact that he helped get the U.S.-North Korean negotiations, which have stalled since the Singapore summit, back on track. "The most important outcome of Moon's U.S. visit is that the talks between the North and the U.S., which had been losing steam, got back on the right track," a senior Cheong Wa Dae official told reporters on Thursday.
"The deadlock between the U.S. and North Korea was about whether there's going to be actual progress in North Korea's denuclearization. President Moon had heart-to-heart talks with Chairman Kim Jong-un on this and delivered a message (from Kim) to the U.S., which kick-started substantial discussions on denuclearization methods," the official said.
Moon seemingly briefed Trump on the outcome of his talks with Kim, and the two leaders discussed ways forward, including what measures the U.S. could take in response to the North's denuclearization steps and how to declare an end to the Korean War. In fact, Moon strongly voiced the message during his interview with Fox News and his speech at the United Nations General Assembly that the end-of-war declaration will promote North Korea's denuclearization steps.
The United States has also responded to Moon's mediation efforts. Speaking to the United Nations General Assembly, Trump said the United States has engaged with North Korea to replace the specter of conflict with a bold and new push for peace. It seems Trump responded to Kim's message by proposing a paradigm shift in the U.S.-North Korea relations.
However, Trump's strong position on sanctions against the North is a variable. While praising Km for his courage in taking steps to disarm, Trump said much work still had to be done and sanctions must remain in place on North Korea until denuclearizes.