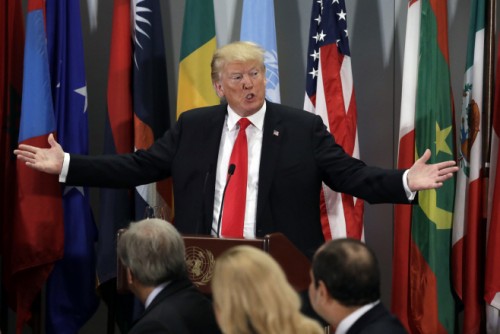 "We have engaged with North Korea to replace the specter of conflict with a bold and new push for peace," U.S. President Donald Trump said on Tuesday at the United Nations General Assembly in New York./ Source: Yonhap News
By AsiaToday Washington correspondent Ha Man-joo, reporters Park Ji-sook & Kim Ye-jin
"We have engaged with North Korea to replace the specter of conflict with a bold and new push for peace," U.S. President Donald Trump said on Tuesday at the United Nations General Assembly in New York.
The speech was in complete contrast to Trump's speech last September at the global body where he threatened to "totally destroy" North Korea. He dramatically changed his tone on North Korea from "total destruction" to "pursuing peace". As a result, terms like "new paradigm" and "détente" have emerged to represent the recent North Korea-U.S. relations. In particular, a blueprint for the second U.S.-North Korea summit and the end-of-war declaration is being drawn up. Some Japanese media outlets reported that the second Trump-Kim summit could be held at Panmunjom in October, citing sources in the United States and South Korea.
During his 2-minute speech, Trump thanked North Korean leader Kim Jong-un, explaining the North's steps toward peace and changes in the North-U.S. relations since the Singapore summit on June 12. His speech is special in that it announces the direction of the United States' diplomacy to the rest of the world. Trump's "new push for peace" can be seen as his response to Kim's message that he received during a meeting with his "friend" Moon Jae-in on Monday.
"The specter of conflict" refers to not only the threats of war at the height of the North Korean nuclear crisis last year, but also the situation of the Koreas in a state of armistice. "New push for peace" seems to represent his willingness to push for permanent peace between North and South Korea as well as the North and the United States through denuclearization dialogue. In other words, it can be seen as his willingness to completely denuclearize North Korea, declare an end to the Korean War, and establish a peace treaty by the end of his first term in January2021 in order to achieve lasting peace on the Korean Peninsula.
The phrase "bold and new push" refers to Trump's methodology for denuclearization negotiations. This indicates that Trump is considering a 'top-down' approach in mind instead of the current 'bottom-up' decision making.
In an interview with Fox News on Tuesday, President Moon Jae-in said he had "ample discussions with U.S. President Donald Trump on the end-of-war declaration issue during a summit" and that there is "basic sympathy to sign a declaration ending the Korean War as soon as possible." He added that the issue will be discussed when Trump meets with Kim for the second time. As a result, many observers predict that the second Trump-Kim summit might take place in mid-October before the U.S. mid-term elections on November 6. Japan's Yomiuri Shimbun suggested the possibility of the Trump-Kim summit taking place in October at the civilian-restricted Panmunjom.
However, Trump or the administration has not yet officially mentioned the possibility of declaring an end to the Korean War as a reciprocal step that North Korea desires. This is why some claim that that there are not enough "right conditions" that the United States wants, such as submitting a list of nuclear facilities. In fact, Trump said, "We are in no rush," while meeting with President Moon Jae-in. Trump also said in his speech to the United Nations General Assembly that much work still had to be done and sanctions must remain in place on North Korea until it denuclearizes.