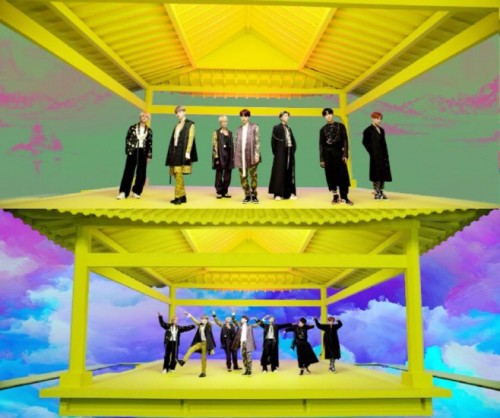 BTS's "IDOL", released on Aug. 24, combines traditional elements of Korean music./ Source: Yonhap
By AsiaToday reporter Nam Ra-da
The culture wars are heating up. As the low-growth trend has continued since the global financial crisis of 2008, more and more countries are seeking to foster the cultural industry as a new growth engine. Competition for cultural contents among countries has become fierce. Especially, China is keeping strict watch over Korean wave, or hallyu, which is spreading around the world. The South Korean cultural industry saw big drops in their exports by China's ban on Korean contents and regulation on cultural industry in 2016. It was in the name of retaliation against South Korea's decision to deploy new missile defense system or Terminal High Altitude Area Defense (THAAD) system. However, there was a practical reason behind it - protecting its culture against the Korean wave.
Since then, the domestic cultural industry has been taking into deep consideration for a post-THAAD world. Popular culture experts stress the need to diversify hallyu markets. A good example is BTS, known more formally as "Bangtan Boys" or "Bulletproof Boy Scouts." The Korean boy band is seeing its big success in the North American market unlike other Korean idols. In fact, BTS is the first Asian group to win a 'Top Social Artist Award" twice at the Billboard Music Awards, beating superstars like Justin Bieber and Demi Lovato. BTS also topped the Billboard 200 chart twice this year.
◇ Exports and sales hit hard by China's THAAD boycott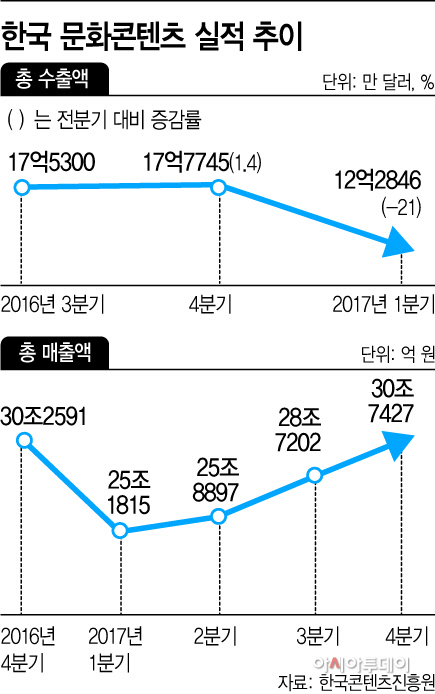 Total exports and revenue of Korean cultural contents./ Source: Korea Creative Content Agency (KOCCA)

Hallyu, which has spread mainly throughout Asian countries including China and Japan, has become an unique Korean brand that leads culture beyond being a trend. However, many Korean cultural exporters have been struggling since the government formally announced its decision to deploy the U.S. missile defense system in July 2016.
The Korea Creative Content Agency (KOCCA) said Tuesday that the total exports of South Korea's content industry in the third quarter of 2016, which was shortly after the government's THAAD deployment announcement, amounted to $1.75 billion. Exports in the fourth quarter of the same year were $1.77 billion, up 1.4 percent from the previous quarter. It is a remarkably poor result, considering that the annual export growth rate had reached 7 percent since 2014. Exports of cultural contents in the first quarter of last year fell 21 percent to $1.22 billion.
The content industry's sales were hit directly as well. The total sales of cultural content in the first quarter of 2017 fell to 25.1 trillion won ($22.3 billion) after recording 30.2 trillion won ($26.8 billion) in the previous quarter. The sales have recovered to 30 trillion won in the fourth quarter of 2017. "China's ban on Hallyu content was already expected," said Lee Byung-min, professor at the Department of Cultural Contents at Konkuk University. "China has been taking measures to protect its contents. I don't think China will suddenly ease its regulations in the future."
◇ The key is to create 'universal but differentiated' content
Experts say that it is necessary to create universal yet differentiated high-quality content in order to overcome such challenges. A good example is BTS, a Korean boy band that has grown into a world-class idol group. Experts say that BTS' universal 'pop' genre, yet differentiated music content that contains their own stories has led to the success of the group. "BTS combined the distinctive features of Korean culture with hip-hop and rap music. Their newest song 'Idol' combined African rhythm and traditional Korean element such as "ulsoo", said critic Kim Hun-sik. "Ulsoo" is an affirmative phrased used in the Korean Pansori.
"Hallyu is a great tool to get out of the current low growth era. The matter is whether it has lasting power. In order for the Korean wave to achieve sustainable growth, it should have universal yet differentiated content. Based on this, it needs to explore new markets with purchasing power," said prof. Lee Byung-min.