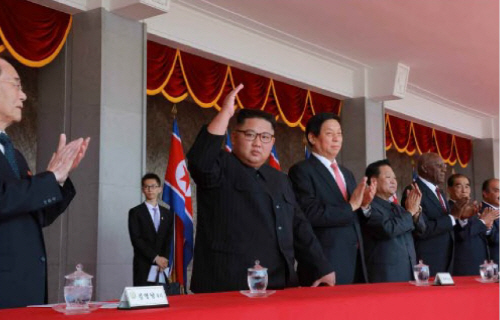 North Korean leader Kim Jong-un holds up his hand during a parade on Sept. 9, marking the 70th anniversary of the country's founding. On the right is Li Zhanshu, China's third-ranking official. / Source: Captured image of North Korea's Rodong Sinmun
By AsiaToday reporter Joo Sung-sik & Heo Go-woon
North Korea staged a military parade on Sunday celebrating the 70th anniversary of its founding without showcasing intercontinental ballistic missiles (ICBMs) capable of striking the United States. Its low-key approach is raising hopes of resuming stalled nuclear talks with the United States.
The U.S. is expected to resume Secretary of State Mike Pompeo's visit to Pyongyang, that was cancelled last month, as it has given a positive assessment of North Korea's ICBM-absent military parade.
U.S. President Donald Trump took to Twitter on Sunday to praise the absence of ICBMs. "This is a big and very positive statement from North Korea," he wrote. "Thank you To Chairman Kim. We will both prove everyone wrong!," suggesting that Washington will resume denuclearization talks through Pompeo's visit to Pyongyang.

Most of all, Kim's personal letter, which will be delivered to Trump via Pompeo, is expected to act as a catalyst for the resumption of the denuclearization talks between Washington and Pyongyang, as well as for peace settlement on the Korean Peninsula and end-of-war declaration at the UN General Assembly. The letter is expected to include a timetable for the implementation of denuclearization agreed with South Korean President Moon Jae-in's special envoys to Pyongyang and Kim's willingness to hold a second round of summit with the United States.
"I know that a letter is being delivered to me, a personal letter from Kim Jong-un to me," Trump told reporters on Friday. He said he believes the letter is "positive."
The South Korean government is encouraged by such changes. "A good message has been sent out signaling for new future for progress in inter-Korean relations, denuclearization of the Korean Peninsula and establishment of peace," Baik Tae-hyun, unification ministry spokesperson, said during a regular press briefing.
"Domestic and foreign media outlets see the absence of ICBMs in Sunday's military parade as positive. I believe Mr. Trump is very positive in his emphasis on peace and economic development," Choi Hyun-soo, defense ministry spokesperson, said.