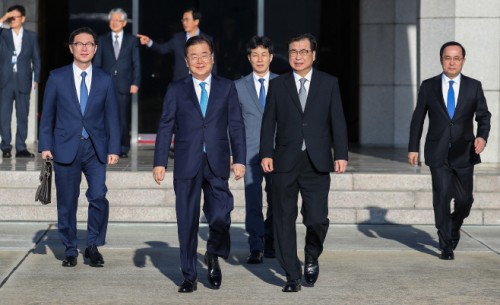 South Korean special envoys led by the chief of the national security office, Chung Eui-yong, leave for Pyongang from an airport in Sungnam city on September 5./ Source: Yonhap News

By AsiaToday reporter Park Ji-sook
A delegation of South Korean special envoys on Wednesday headed to Pyongyang and discussed with North Koreans about the specific schedule and agenda for the upcoming third summit between South Korean President Moon Jae-in and North Korean leader Kim Jong-un, denuclearization and the establishment of permanent peace on the Korean Peninsula. It is noteworthy how Wednesday's visit will have an impact on the stalled denuclearization negotiations between the United States and North Korea and end-of-war declaration. The delegation delivered a letter from President Moon to North Korea's Kim.
The five-member delegation, led by the head of the presidential National Security Office (NSO) Chung Eui-yong, flew to Pyongyang at 07:40 a.m. from Seoul Air Base and arrived in the North Korean capital at around 09:00 a.m..
"The delegation was greeted by Ri Son-kwon, chairman of North Korea's Committee for the Peaceful Reunification of the Country (CPRC), and other committee officials," Presidential Senior Secretary for Public Relations Yoon Young-chan said. "The South Koreans later met with Kim Yong-chol, vice chairman of the Central Committee of the Workers' Party of Korea (WPK), at the Koryo Hotel," Yoon said.
Yoon said the special envoys had a 20-minute conversation with Kim Yong-chol and Ri Son-kwon at the 38th floor of the Koryo Hotel. Kim Yong-chol left the hotel after the conversation, while the meeting with Ri continued for another 19 minutes.
The special envoys reportedly had an official meeting with North Korean leader Kim Jong-un. The two Koreas discussed the specific schedule and agenda for the upcoming Moon-Kim summit, which is scheduled for September. They also exchanged opinions about ways to resume the stalled U.S.-North Korea denuclearization talks.
The South Koreans reportedly suggested North Korea to set up a working group to deal with nuclear facility reporting in relation to the denuclearization roadmap.