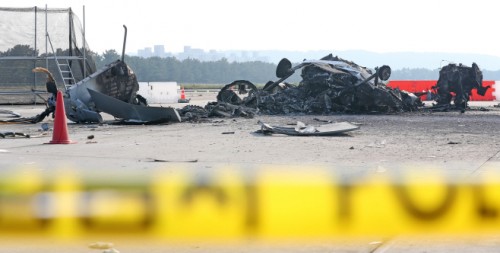 Five troops were killed when a South Korean military helicopter crashed on July 17 at a marine base in the port city of Pohang./ Source: Yonhap News

By AsiaToday reporter Lee Seok-jong
An investigative team was launched Wednesday to probe last month's Marine chopper crash that killed five troops. As many experts claim that the crash was not accidental, rather foreseeable, the Marine Corps should come up with special measures.
The MUH-1 Marineon, the Marine variant of the KUH-1 Surion helicopter, crashed at a military airport on July 17, killing five of six Marine aboard.
"It takes a lot of time and money to develop a helicopter that fits for Marine Corps. But in order to save time and money, Marineon was developed as a Marine variant of the KUH-1 Surion helicopter," said a former Korean military helicopter pilot and aircraft expert, speaking on condition of anonymity. "Considering this, the accident was foreseeable."
"In order to research and develop a military helicopter, various kinds of flight stability tests must be carried out. It seems that the development was carried out without properly verifying five or six parts that were remodeled and installed, such as folding rotors," the expert pointed out.
"The fact that the marine built Marineon as a variant concept to cover up a lack of experience in developing and modifying helicopters contributed to the accident," another aircraft expert said.
"The Marine's demand of high quality weapon system at low price has placed safety burden on operators," a reserve officer in the force improvement division said. "Advanced countries place a high priority on the safety and human lives in the development of weapon system, so they put more money in this part than others. But our military tried to build a weapon system with similar capabilities at lower cost, which resulted in poor products."

"For example, the United States executes various tests, such as developmental testing (DT) and Operational Testing (OT), on four to five low-rate initial production (LRIP) prototypes for a couple of years before making a mass-produce contract for mass production. But South Korea doesn't have the LRIP concept as far a s I know," a military official said.
The crashed Marineon was one of the four units initially produced.
"A company with lack of experience and technology combined technologies of European companies to develop Surion, a model for Marineon. It normally takes nearly 20 years to develop helicopters, but it took only seven years for them to create Surion," another official from aviation industry said. "That's why Surion had lots of technical defects from the beginning."
Taking expert opinions together, the Marineon accident was not accidental, but it was caused by a combination of unreasonable request of performance and lack of technologies, time, and testing.
Experts say that a safe and qualified weapon system created based on sufficient money and time should be supplied to the military in order to avoid such problems.