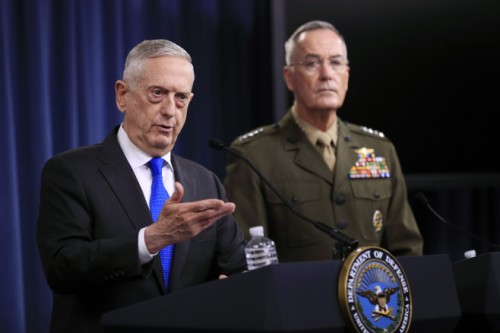 "We have no plans at this time to suspend any more exercises," U.S. Defense Secretary James Mattis told reporters on Tuesday./ Source: AP=Yonhap News

By AsiaToday Washington correspondent Ha Man-joo & reporter Kim Ye-jin
The United States has adopted a carrot-and-stick approach to dealing with North Korean denuclearization. While the Pentagon presented a military drill card to add pressure on North Korea, the U.S. State Department stressed "diplomatic efforts".
U.S. Defense Secretary James Mattis on Tuesday indicated that the United States will resume joint military drills with South Korea, saying, "We have no plans at this time to suspend any more exercises." His remark comes after the cancellation of Secretary of State Mike Pompeo's planned visit to Pyongyang, and it seems to be intended to add pressure on the North.
"We are going to see how the negotiations go, and then we will calculate the future, how we go forward," Mattis told reporters at the Pentagon, indicating that the resumption of military drills in the region depends on the result of denuclearization negotiations between the U.S. and North Korea.
This means that the resumption of several joint military drills, such as Ulchi Freedom Guardian (UFG) exercises and Korean Marine Exchange Program (KMEP) training exercises that had been canceled this year as a good faith following the U.S.-North Korea summit in June, will be used as a bargaining chip in the denuclearization talks. As talks between Washington and the North have stalled with the cancellation of Pompeo's Pyongyang visit, throwing out a military drill card can be seen as a warning against the North.
However, the U.S. State Department said on the same day that the United States continues to make diplomatic efforts in handling the North Korean issue. State spokesperson Heather Nauert said in a briefing that the U.S. will be patient in the ongoing diplomatic effort. "We stand ready to talk when the North Koreans stand ready to do so, and we think it can be productive," she said.
Last week, U.S. President Donald Trump made a decision to cancel Pompeo's visit during a meeting with Pompeo, Vice President Mike Pence, special envoy on North Korea Stephen Biegun, U.S. Ambassador to the Philippines Sung Kim, CIA's Korea Mission Center chief Andrew Kim, and National Security Adviser John Bolton, who joined by phone.