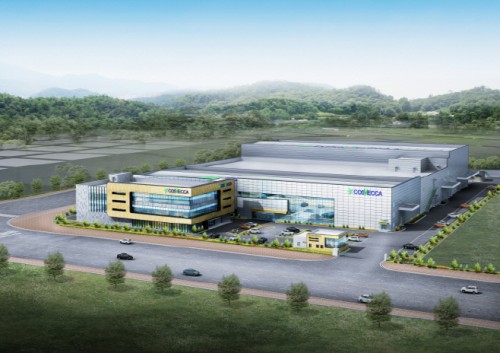 An aerioview of Cosmeca Korea's factory in Pinghu

By AsiaToday reporter Chung Seok-man
South Korean companies are tightening their grips on the Chinese market. As the food and cosmetics sectors are gradually recovering from a drop in sales due to THAAD tensions, South Korean companies are planning to expand their presence in China by building factories and expanding distribution channels. The number of Chinese tourists is noticeably increasing and the resumption of group tours to South Korea has also raised hopes among Korean firms.
According to industry sources on Monday, South Korean cosmetics original design manufacturing (ODM) firm Kolmar Korea is preparing to wrap up the construction project of its new plant in Wuxi, Jiangsu, in October. If the new factory with an annual production capacity of 450 million units is launched within the year, Kolmar Korea's cosmetics production capacity in China will increase more than 5 times from 102 million to 552 million units.
Sales are also on the rise as the Chinese cosmetics market is expanding and THAAD tensions are alleviating. Kolmar China, a Chinese corporation of Kolmar Korea, saw sales of 37.5 billion won (US$33.6 billion), an increase of 50.3 percent compared to the same period last year. In case of Cosmax, its two corporations in China saw sales of 220.7 billion won in the first half of this year, up 21 percent from the previous year.
Cosmeca Korea, the third largest cosmetics maker in South Korea, is expected to complete building a factory in Pinghu, Zhejiang, this year. The completion is also expected to ramp up K-beauty's influences in China in the second half of the year. AmorePacific, which is showing solid growth in China with its Sulwhasoo brand, plans to launch hair care brand Mise-en-scene this year.
Food and liquor companies are expanding their distribution network in China. South Korean brewing company Bohae, which entered the Chinese market by opening a store in Alibaba's B2B platform last year, opened its brand shop this year in Tmall, Alibaba's B2C commerce platform. It also launched its products such as Yipsejoo in 104 Walmart stores in Shanghai, Alibaba's new distribution channel Hema Xiansheng, and some convenience stores. Yonsei Milk also entered Hema Xiansheng last month as the first domestic dairy company.
Such strengthening of the sales channels is closely related with the gradual recovery of the K-food sector, which has struggled with the THAAD retaliation. Orion's corporation in China saw its sales rise by 34 percent in the first half of this year compared to the same period last year. Nongshim posted an operating loss of 2.8 billion won (US$2.5 million) in China in the first half of last year, but turned into a surplus of 2.6 billion won (US$2.3 million) in the first half of this year.
"The business structure of the Chinese corporation is showing a substantial improvement with the new product effect and the expansion of sales at general retail stores," an Orion official said.