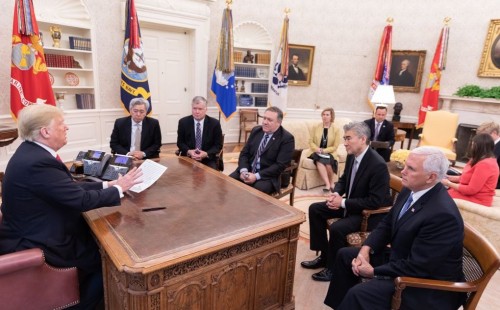 A picture uploaded on Twitter by Dan Scavino, White House Director of Social Media, on Aug. 24. The photo shows U.S. President Donald Trump holding a meeting with his key aides in the Oval Office regarding North Korea, ahead of his decision to cancel Secretary of State Mike Pompeo's planned trip to North Korea./ Source: Dan Scavino's Twitter account

By AsiaToday Washington correspondent Ha Man-joo & reporter Choi Seo-yoon
U.S. President Donald Trump abruptly cancelled Secretary of State Mike Pompeo's planned trip to North Korea due to negative outlook on the outcome of his top diplomat's visit. Trump apparently is concerned that Pompeo would come back empty handed again following his third visit to Pyongyang early last month.
Above all, such a dramatic shift of tone for Trump, who had been optimistic about North Korea's denuclearization progress, indicates that he would now take a more hard line stance in the future negotiations with North Korea. "I have asked Secretary of State Mike Pompeo not to go to North Korea, at this time, because I feel we are not making sufficient progress with respect to the denuclearization of the Korean Peninsula," Trump wrote on Twitter on Friday.
Ahead of Pompeo's fourth visit to Pyongyang, there were many 'rosy' prospects of the possibility of a 'big deal' between the U.S. and North Korea. Many predicted that the North would hand over a list outlining its nuclear arsenal and production facilities and seek a formal declaration of the end of the Korean War in return. However, the State Department had already indicated that Pompeo's visit would not bring any big achievements. U.S. State Department spokesperson Heather Nauert said Thursday that there are no plans for a meeting with North Korean leader Kim Jong-un on the trip.
The Washington Post reported on July 21 that Pompeo's counterpart Kim Yong Chol has consistently stonewalled discussions by saying he is not empowered to talk about North Korea's denuclearization issues, citing U.S. officials. This indicates that Kim Jong-un is the only decision maker, and thus Pompeo's failure to meet Kim means that he cannot expect any achievements in his fourth Pyongyang trip.
"What's important is that we are regularizing these meetings and these conversations with the North Korean government. But this is all going to take some time, and I think we have been clear about that," Nauert said. Her remark emphasized the regularization and prolongation of the denuclearization talks with the North, hinting that Pompeo's visit would not immediately produce tangible outcome.
Trump partly blamed China for the lack of progress in denuclearization talks, saying, "Because of our much tougher trading stance with China, I do not believe they are helping with the process of denuclearization as they once were."
China strongly criticized U.S. comments, saying that it's irresponsible. "The U.S. statement is contrary to basic facts and is irresponsible. We are seriously concerned about this," China's foreign ministry spokesman Lu Kang said in a statement posted on the ministry website on Sunday.