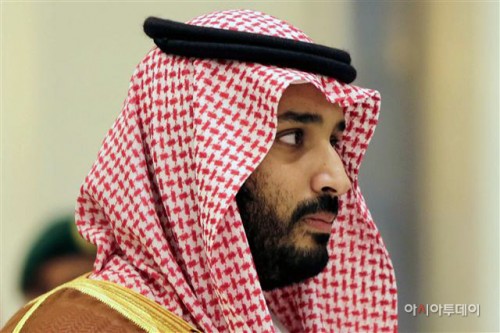 Saudi Arabia's Crown Prince Mohammad Bin Salman Al Saud

By AsiaToday reporters Choi Won-young & Choi Hyun-min
Saudi Arabia's de-facto ruler, Crown Prince Mohammad Bin Salman, is considering to visit South Korea. He may attend a completion ceremony of a 5 trillion won (US$4.4 billion) worth project of S-Oil, a subsidiary of Saudi Arabia's state-run oil giant Saudi Aramco, to be held in October. It could be a golden opportunity for South Korea to win a 22 trillion won (US$19.6 billion) worth deal to build nuclear power plants in Saudi Arabia. President Moon Jae-in may also attend the ceremony if the crown prince's Seoul trip is confirmed.
Saudi authorities are coordinating Mohammad Bin Salman's South Korea visit, according to diplomatic and energy industry officials on Tuesday. "Nothing has been decided yet. But we believe his visit could be after October," a senior government official said.
Saudi authorities have recently been busy finding companies as part of economic delegation to accompany the crown prince during his South Korea visit, according to a source in Saudi Arabia. "They looked much more aggressive and busy to set a delegation compared with the visit of Saudi Minister of Energy, Industry, and Mineral Resources Khalid al-Falih back in April," the source said. "I heard that the South Korean government and S-Oil have been asking for the crown prince's South Korea visit since the energy minister's visit."
The crown prince's potential visit could take place after October as S-Oil's complete commercial production of its RUC(Residue Upgrading Complex) and ODC (Olefin Downstream Complex) project is scheduled for early fourth quarter of the year. Besides, it seems very difficult to invite President Moon to the completion ceremony in September as he has to prepare for inter-Korean summit, end-of-war declaration, and UN General Assembly next month.
The RUC and ODC facilities is a large scale project that S-Oil has been investing since 2014. The company also said that it plans to invest more than 5 trillion won (US$4.4 billion) by 2023 as a second phase to expand its business portfolio.
S-Oil is one of the largest downstream company owned by Aramco, and is considered a symbol of economic cooperation between South Korea and Saudi Arabia. When Saudi Minister of Petroleum and Mineral Resources Ali Al-Naimi visited South Korea in 2011 to attend S-Oil's ceremony for the completion of the paraxylene (PX) production facilities, the then president Lee Myung-bak made an unprecedented visit to the ceremony. When energy minister Khalid Al-Falih visited South Korea in April, he met President Moon Jae-at the presidential office Cheong Wa Dae.
This will be once-in-a-lifetime opportunity for the South Korean government, which has been eagerly seeking to win Saudi Arabia's nuclear power plant deals. Saudi Arabia has been in talks with companies from South Korea, the United States, Russia, China and France for the tender for its 22 trillion won (US$19.6 billion) worth nuclear project. Winning a nuclear project order in Saudi Arabia is being regarded as the key to win other nuclear projects in Eastern Europe.
Besides, when Crown Prince Bin Salman visited the United States in March, he met with tech moguls of Apple, Google, Amazon, Microsoft, and Walt Disney to discuss large-scale investment. We cannot rule out the possibility of Saudi Arabia's business cooperation with Korean companies such as Samsung, LG, and SK for Saudi's 560 trillion won worth project of smart city named NEOM.