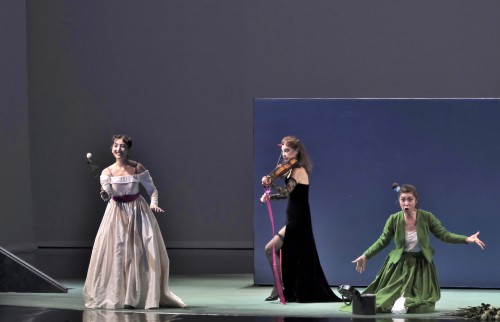 A scene from Tokyo Nikikai opera 'Der freischutz'./ © Chikashi Saegusa /TOKYO NIKIKAI OPERA FOUNDATION
Along with the Fujiwara opera, Tokyo Nikikai Opera is a representative private opera house in Japan. In contrast to Korea, where many private opera companies exist, two private opera company, Fujiwara and Nikikai, and the New National Theater opera of Tokyo is the major leading group of Japanese opera.
Unlike Fujiwara Opera, which was established in the 1930s, during early days of Japanese operas, the Nikikai Opera was founded in 1952, after the Pacific War. After the war, a lot of changes occurred in Japanese society. And so, the name Nikikai means a gathering of second generation, that is a new innovative opera to be created by a new generation.
The NikiKai Opera, celebrating its 65th anniversary in 2017, has served as a locomotive for the development of Japanese operas for many years. Currently, about 15 to 25 opera pieces are performed per year in various regions of Japan, and more than 2,700 opera singers and staffs are belong to Nikikai Opera.

This year, the Nikikai Opera is performing several opera productions, combining new and existing works as usual. Recently, I attended the opening night of Karl Maria Weber's opera "Der Freischutz" at Tokyo Bunka Kaikan.
The opera premiered in 1999 at Hamburg Staatsoper in Germany was modified for Japanese stage. Though the original director, Peter Konwitschny has directed this opera, there was a lot of modifications for the Japanese characteristics makes the work more like a re-created version.

Although there were some foreign staffs, all the casts were consisted with Japanese singers. This is also a distinctive feature of the Nikikai Opera, considered an effort to provide more stage to Japanese singers and improve the level of Japanese opera.
All singers of Nikikai Opera played well with unstudied vocalization and natural German diction in performing the exacting German opera. The harmony of casts, not only major and minor characters but also choirs were very smooth, and it seemed that the systems of Nikikai Opera have been preparing for a long time to produce such a result.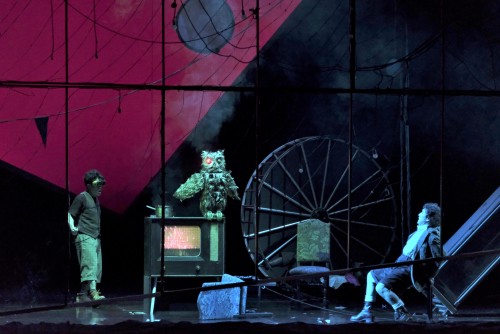 A scene from Tokyo Nikikai opera 'Der freischutz'./ © Chikashi Saegusa /TOKYO NIKIKAI OPERA FOUNDATION
Weber's 'Der Freischutz' is classified as Singspiel. The most different thing of this simple folk opera from Italian opera is that it treats the lines like a normal play, and of course the lines and lyrics are in German. It has become a tool to enriching the expression of German characteristics. Today it is often expresses in their native language of performing country, more freely than opera.
In the performance, the dialogues were spoken in Japanese and the musical pieces were sung in German, but it was used for increasing the concentration and interest of Japanese audiences rather than being awkward. The audiences focused on the dialogues as if they were listening to Japanese play.
Yamato Yuga, a popular actress from Takarazuka, played the role of the evil Jamiel, the most notable character in the opera, where surreal aspects and symbolism were strongly emphasized through various stage settings rather than traditional elements of the German opera. She took over Jamiel the devil, who made a fatal deal with the main character for a magic bullet, and completed a unique unpredictable demon with special looks and movements that could not be seen in ordinary opera stage.
This unusual attempt was not welcomed by all the audiences. Some of them, who like the unique characteristics of the opera, expressed strong repulsion to the appearance of actress from Takarazuka, but even this could be regarded as a variety of Japanese opera culture positively.
The musical perfection of this distinctive opera, in some aspects looked like an experimental play, was led by the Yomiuri Nippon Symphony Orchestra conducted by Alejo Perez. The Yomiuri Nippon Symphony Orchestra, the top-ranking Japanese orchestra that competes with the NHK Symphony Orchestra, and the young conductor Alejo Perez from Argentina expressed pastoral and mysterious atmosphere of Singspiel.
In particular, delicate and texterous expressions of strings and the high quality of woodwinds have proved that their reputation is worth it. Private opera company could performing with this high level of orchestras shows the power of Japanese opera.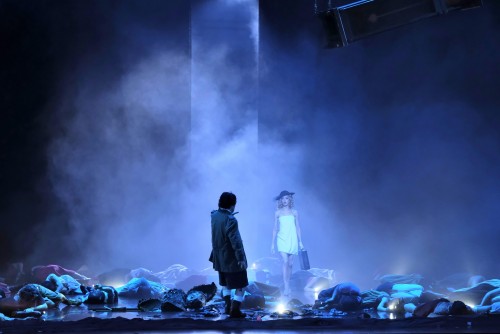 A scene from Tokyo Nikikai opera 'Der freischutz'./ © Chikashi Saegusa /TOKYO NIKIKAI OPERA FOUNDATION
Nikikai Opera will introduce the Puccini's opera "Il Trittico" as its new production in September, and will also perform Mozart's Singspiel "Die Entführung aus Dem Serail" in November. The opera performance and their new production is continuing. This gives the audience the perception that opera is always nearby. NikiKai Opera has been showing a strong presence for many years in its own way.
It is well known that the level of completion is quite high for every performances. Depending on the work, they often work with world-famous directors and conductors. Perfomance with the leading opera house in foreign countries, like this case of Hamburg Stattsoper, is also being performed reliably. It is not someone who is just known to be famous in a foreign country, but actually inviting the world's well-known and proven masters. There are few verification matters that occur after performance.
Of course, not all of this has been done in a short period of time. It is the result of continuous effort for more than half a century. Compared to Korean operas, I would like to say, there is a clear difference in ecosystem and a system of opera production. Our immediate task is to recognize these differences and turn Korean opera into a better ecosystem based on what we could learn from them. Tokyo Nikikai opera foundation has sent many implications for us.



/ Soo-yeon Sohn / opera critic and professor at Sangmyung University / yonu44@naver.com
Translation. Daniel Wie