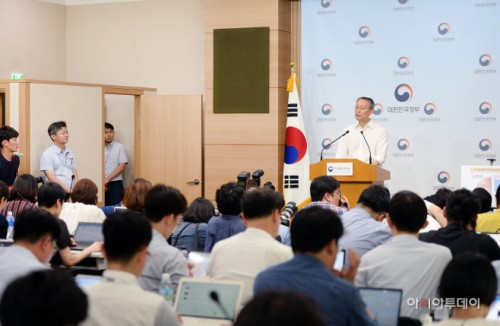 Minister of Trade, Industry and Energy Paik Un-gyu speaks during a press conference at the Government Complex in Seoul on Tuesday./ Source: The Ministry of Trade, Industry and Energy

By AsiaToday reporter Choi Won-young
The National Assembly and the government have decided to temporarily ease Korea's progressive electricity rates for July and August, following public concerns over heavy power bills caused by the unprecedented summer heat. The main point of the government's power bill relief is to reduce electricity bills by an average of nearly 20 percent per household by expanding the stages of the progressive pricing system. However, criticisms are mounting over the relief as it is only temporary easing rather than abolishment of the system, and many still claim such rate cuts would not ease their financial burden.
The Ministry of Trade, Industry and Energy and the ruling Democratic Party of Korea agreed Tuesday to expand the first two stages of the progressive pricing system for July and August. Currently, the unit price for those who use below 200 kilowatt-hours (kWh) a month is set at 93.3 won, and it rises to 187.9 won per kWh for 201-400 kWh and 280.6 won per kWh for over 400 kWh. Under the support measure, the baseline will be upgraded to 300 kWh and the ceiling of the second stage will rise to 500 kWh.
By expanding the first and second stages by 100 kilowatt-hours, households can save 276.1 billion won (US$245.9 million) or 19.5 percent each in energy costs, according to the government officials and lawmakers. For example, a household which uses 450 kWh in a month had to pay 88,190 won (US$78.6) as it was bracketed in the third band. However, it would only have to pay 65,680 won (US$58.5) - down 25.5 percent from the current rate - with the temporary discount.

However, citizens are dissatisfied with the fact that the government's power bill discount is less than expected. Many people called for abolishment of the progressive electricity billing stage system, but the government's relief was just an alleviating measure of stage adjusting format. Furthermore, the measure is a temporary one rather than fundamental one.
Another problem is that those that do not fall within the boundaries of the stages would have little or no benefit at all. A household which uses less than 200 kWh per month would have virtually no benefit from this government relief. A household using 800 kWh a month, which had to pay 199,850 won (US$178), would save only about 18,660 won (US$16.6).
The government said it will expand discounts for lower-income families and households with babies to help them stay safe in the summer. While households with babies younger than one year currently receive a 30 percent discount on their power bills for one year, the benefit will be extended to those raising infants under the age of three.