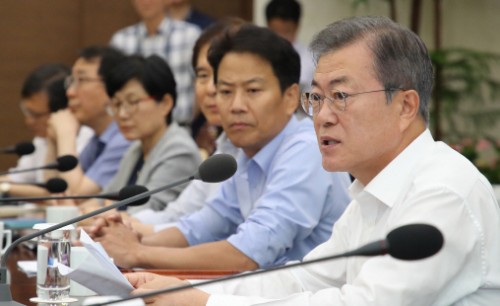 President Moon Jae-in speaks at a meeting with his senior secretaries on Monday at Cheong Wa Dae./ Source: Yonhap News

By AsiaToday reporter Joo Sung-sik
President Moon Jae-in called on Monday for easing the incremental electricity rate system temporarily for July and August and providing discounts for low-income families and social welfare facilities, to be reflected in charges for July.
Presiding over a meeting with his top aides held at his office Cheong Wa Dae, the president noted households are worried about sharp electricity bills resulting from the scorching heat wave this summer.
President Moon said the country has the best power supply capability ever, and that it has maintained an electricity reserve rate at a stable level amid the record-breaking period of heat wave. He ordered his top aides to do their best to manage the supply and demand until heat waves end.
In particular, Moon said more fundamental measures to treat heat waves as natural disasters are necessary as they are likely to be annual events from now on due to unusual global weather. "In addition to adding heat waves to the list of natural disasters, I ask the government to make sure that the people will not be discouraged from using their air conditioners due to concerns over power bills," he said.
"The president's remarks reflect the reality of a sudden increase of the number of patients and deaths related to heat wave, and the fact that many people are afraid of using their air conditioners on concerns over power bills," said Kim Eui-kyeom, presidential spokesman.
Regarding measures to reduce the public burden of electricity bills, Kim said, "I understand that the Ministry of Trade, Industry and Energy is reviewing the measures and that it is almost at the final stage to be confirmed."
President Moon stressed the need to first boldly reform regulations to revitalize the economy. "Increasing economic vigor is a way to increase the vigor in the people's lives. In particular, the economy can be revitalized when business activities increase, leading to a rise in the income and income capacity of the people," Moon said. "We must first boldly reform regulations that block creating new jobs and new industries," he added.
Moon also ordered the government to drastically expand its spending on new infrastructure projects such as libraries and sports facilities, which are closely related to the public welfare and new jobs. "We must at least be able to give hope to the people that the economy will get better. I ask all economic teams and the government to further step up efforts to reduce concerns over the economic downturn and to revitalize our economy," he said.