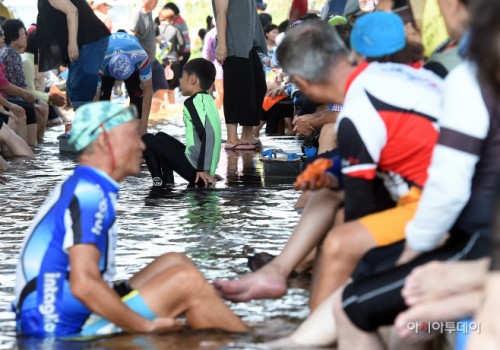 Citizens are taking a rest under the Mapo Bridge to cool off on Wednesday./ Photographed by Kim Hyun-woo (cjswo2112@)

By AsiaToday reporter Lee Chul-hyun
The daytime temperature record has been renewed throughout the country on Wednesday as the extreme heat wave continued to grip the Korean Peninsula. The mercury touched 41 degrees Celsius in Hongcheon of Gangwon and 40.4 degrees Celsius in Uiseong of Gyeongbuk for the first time in South Korea, and some parts of Seoul even logged its highest-ever temperature of almost 42 degrees Celsius.
According to the Korea Meteorological Administration (KMA), 16 regions logged their highest-ever temperatures as of 4 p.m. on Wednesday. The mercury hit a record high 40.3 degrees Celsius at an observatory in Hongcheon at 2 p.m.. It broke its own record within only two hours by hitting 41.0 degrees Celsius at 4 p.m..
Many parts of the country recorded their highest-ever temperatures as well, with Chungbuk and Chungju recording 39.8 degrees Celsius, followed by 39.6 degrees in Seoul.
The temperature in Hongcheon was the highest ever recorded across the country since the KMA started compiling the data in 1907. The previous high of 40 degrees Celsius was logged at Daegu on Aug. 1 in 1942.
The temperature in Seoul also soared to its highest level in 111 years. Seoul's temperature rose to 39.6 degrees Celsius, breaking its previous heat record of 38.4 degrees Celsius set on July 24, 1994.
In particular, the temperature in Gangbuk-gu of Seoul was 41.8 degrees Celsius, marking the highest daytime temperature in the country.
The unusually prolonged heat came as the rainy season ended earlier than usual. High atmospheric pressure from the North Pacific was added by high atmospheric pressure from Tibet that brought hot air to the country. The country was hit by a so-called foehn phenomenon, where the easterly wind moves westwards over the Taebaek Mountains. Blowing over the mountains, the wind got hotter, according to meteorologists.
The KMA said that the sweltering heat will continue over the coming days.