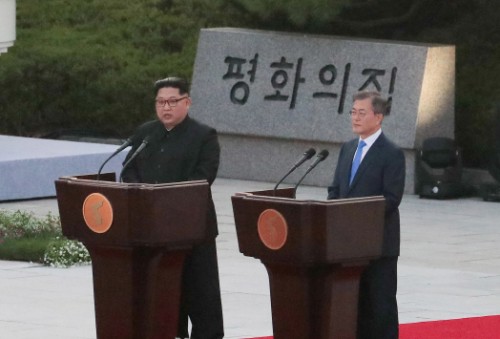 President Moon Jae-in and North Korean leader Kim Jong-un declared the Panmunjom Declaration for Peace, Prosperity and Unification and decided to declare an end to the Korean War as soon as possible within this year, after their inter-Korean summit meeting held at the Peace House at Panmunjom on April 27, 2018./ Source: Yonhap News

By AsiaToday reporter Joo Sung-sik
China may join the trilateral talks that have been held among the two Koreas and the United States to declare the end of the Korean War. In particular, it has been revealed that the head of South Korea's National Security Office, Chung Eui-yong, secretly met Yang Jiechi, a Political Bureau member of China's Communist Party, suggesting that Seoul and Beijing have discussed the issue to a substantial degree.
Besides, South Korean Foreign Minister Kang Kyung-wha, who headed to Singapore to engage in a round of meetings at the ASEAN Regional Forum (ARF), is likely to hold a tripartite meeting with North Korea's Foreign Minister Ri Yong Ho and U.S. Secretary of State Mike Pompeo to discuss China's involvement in declaring a formal end to the Korean War.
During a regular media briefing on Tuesday, Chinese Foreign Ministry spokesperson Geng Shuang revealed that Yang Jiechi recently met with Chung Eui-yong during his secretive visit to South Korea. The spokesman said that the two exchanged opinions on issues of mutual interest and Seoul-Beijing relations. Cheong Wa Dae also confirmed Yang's visit to South Korea in mid-July, but declined to comment on the nature of the meeting.
Both sides did not elaborate on the details of the discussions, but media reports suggest that Yang and Chung discussed the possibility of China's involvement in declaring a formal end to the Korean War. "It remains to be seen whether the discussion of an end to the war will be trilateral or quadrilateral, but a four-way declaration has not been ruled out," a senior Cheong Wa Dae official said. "A four-way declaration remains possible depending on the discussions," he said.
"It's natural for all parties in hostile relations to declare the end to a war, so it is natural for China to take part in it," the official said. "Rather than the format of the declaration, it is more important whether or not it will be done," he added.
It is also of great interest to see whether the discussions on declaring a formal end to the Korean War will take place at the ASEAN-related meetings in Singapore. South Korean Foreign Minister Kang Kyung-wha will be seeking to discuss the issue with her North Korean and American counterparts in Singapore.
"As the declaration is our diplomatic task, we will push for it if there is an opportunity," Kang told reporters at the airport before heading to Singapore. "But there isn't anything concrete yet that has been fixed."