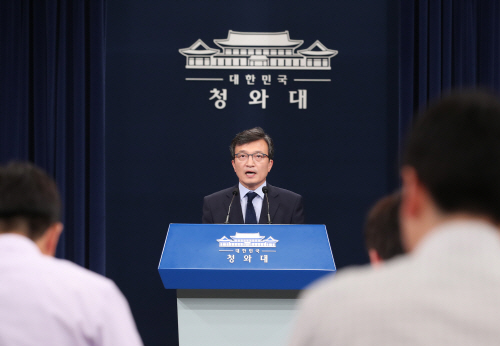 Cheong Wa Dae spokesperson Kim Eui-kyeom delivers President Moon Jae-in's remarks on the controversial martial law documents in a briefing on Thursday./ Source: Yonhap News

By AsiaToday reporter Joo Sung-sik
President Moon Jae-in on Thursday hinted at the possibility of penalizing those involved in the controversial proposal from the Defense Security Command (DSC) to invoke martial law and stressed the need for a large-scale restructuring of the military intelligence unit.
"The essence of the matter is to reveal the truth of the martial law documents," the president said after receiving a briefing on the controversial DSC documents. "We must make a thorough investigation to find out why it was created and how far the DSC was willing to go to implement the plan," Moon said, according to his spokesperson Kim Eui-kyeom.
Moon's remarks follow a series of disputes between Defense Minister Song Young-moo and DSC officer Min Byeong-sam in the recent parliamentary defense committee session, where the two accused each other of lying.
Moon is expected to start the DSC reform to control this situation. He urged the DSC reform taskforce to draw up reform plans in the near future. "My understanding is that the taskforce has already done a lot of review on the reform proposal. I would like the taskforce to speed up its discussions and submit the reform proposal as quickly as possible," Moon said.
"The top priority is to let the joint civilian-military team investigate the issue," Moon said. "People linked to the issue should take responsibility. Rights and wrongs committed by those involved in the matter, including Defense Minister Song Young-moo, must be determined. I will take appropriate measures after receiving the report from the DSC reform taskforce and considering the mistakes of those responsible," he said.
Due to Moon's strong will, the taskforce is expected to submit the reform proposal earlier than originally planned. "As the president expressed his intention, I think the taskforce headed by Chang Young-dal is expected to rush its discussions," Kim said.