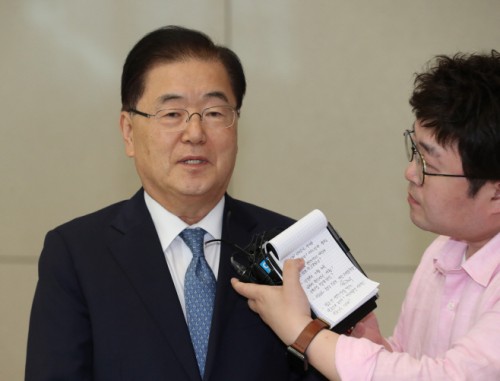 National Security Adviser Chung Eui-yong answers questions from reporters upon his arrival from the United States on Sunday./ Source: Yonhap News

AsiaToday reporter Jo Jae-hyung
A well-informed government source revealed Sunday, "I understand that 55 coffins to repatriate the remains of U.S. soldiers killed during the Korean War were handed over to North Korea on Friday." Another government source said, "The transfer of the remains is expected to take place as scheduled on July 27, the 65th anniversary of the signing of the Korean Armistice Agreement." However, the source said, "The question is, whether North Korea will happily accept an American military aircraft's North visit as a C-130 aircraft has to enter the North to retrieve the remains."
In particular, retrieving the remains of U.S. soldiers missing from the Korean War on an American military aircraft has a large symbolic meaning. The repatriation is being watched with keen interest as it is expected to take place on July 27, when the Military Armistice Commission (MAC) hosts a ceremony to commemorate the Korean Armistice with major Korean and American commanders and senior MAC officers in attendance. People are paying attention to whether top military commanders such as Vincent Brooks, commander of South Korea-U.S. Combined Forces Command (CFC) and US Forces Korea (USFK), and Kim Byeong-joo, deputy chief of the CFC, will attend the event.
Above all, the repatriation is not simply the return of American soldiers of the Korean War. It would be the first tangible move of the U.S.-North Korea agreement set out for North Korea's complete denuclearization, which was agreed during the June 12 U.S.-North Korea summit in Singapore following the April 27 inter-Korean summit. The return of American soldiers' remains could offer a great opportunity to improve the Washington-Pyongyang relations and even push for denuclearization amid reports that the U.S. and North Korea are not showing tangible progress on denuclearization talks following the summit.
"We had very helpful consultations with the United States to successfully and rapidly push ahead with denuclearization negotiations between the U.S. and North Korea," National Security Adviser Chung Eui-yong told reporters upon his return from visit to the United States on Sunday. "We reaffirmed that settling peace on the Korean Peninsula through complete denuclearization is a shared goal of South Korea and the U.S.," Chung said.
"To achieve the goal, we agreed to continue to share relevant information and maintain close coordination based on firm alliance between South Korea and the U.S.," Chung said. However, he did not answer questions as to whether he and his U.S. counterpart John Bolton had discussed declaring an end to the Korean War.
It is noteworthy whether President Moon Jae-in will once again be able to open a new breakthrough in the stalled denuclearization talks between the United States and North Korea.