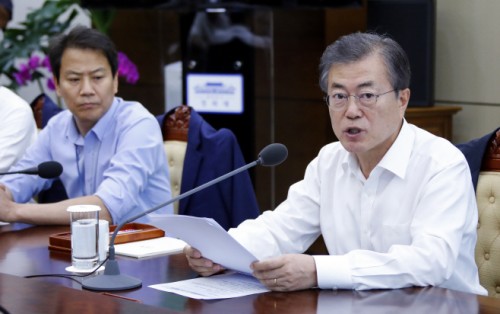 President Moon Jae-in speaks at a weekly meeting with top presidential aides in Cheong Wa Dae on July 16./ Source: Yonhap News

By AsiaToday reporter Jo Jae-hyung
President Moon Jae-in apologized Monday for failing to keep his minimum wage election pledge, saying, "It has apparently become impossible to achieve the goal of raising the minimum wage to 10,000 won by 2020." The president called on corporate, government and labor entities to cooperate in minimum wage-related issues, saying, "It's important for our economy to endure the minimum wage hike."
He made such remarks at a weekly meeting with top presidential aides in Cheong Wa Dae.
The president said he respects the Minimum Wage Commission's decision, saying, "The Minimum Wage Commission made the decision taking into account the economic situation, employment conditions, and difficulties that small-scale businesspeople and vendors are facing." The Minimum Wage Commission decided last week to increase the minimum wage for next year to 8,350 won per hour, up 10.9 percent from the current 7,350 won.

Above all, the president made it clear that his government will not slow down its minimum wage increase while rejecting speculations that the level of the minimum wage hike is being controlled. "The commission continued to show support for the government's minimum wage policy," Moon said. "The government will do its best to achieve a minimum wage of 10,000 won at the earliest date possible," he added.
"The government will draw up follow-up measures to prevent small merchants and self-employed people from being impacted, not only through employment subsidies but also through commercial property lease protection, reasonable credit card fees and protecting franchises," the president said. "We will also prepare supplementary measures to raise the incomes of low-wage workers and low-income families."
Officials from the ruling Democratic Party (DP), the government and Cheong Wa Dae are scheduled to hold an emergency meeting Tuesday to prepare for follow-up measures of next year's minimum wage increase. They plan to discuss ways to extend financial support to small enterprises and expand an earned income tax credit (EITC) scheme that calls for refunding taxes to low-income families. They will also review a set of financial measures including cuts in credit card commissions and rents for small business owners and an extension of loan maturity for the self-employed.
The minimum wage hike sparked debate between the ruling and opposition parties. The ruling party stressed that unfair practices of transaction should be rooted out while the opposition party called for the government to review the policy over the minimum wage. "The fundamental reason for small business owners' difficulties comes from bullying by conglomerates in connection with unfair franchise contracts and high rents," said the DP's chief Choo Mi-ae. On the other hand, Yoon Young-seok, a spokesman for the main opposition Liberty Korea Party (LKP) said, "The unrealistic pledge should be boldly thrown away for the country's economy."