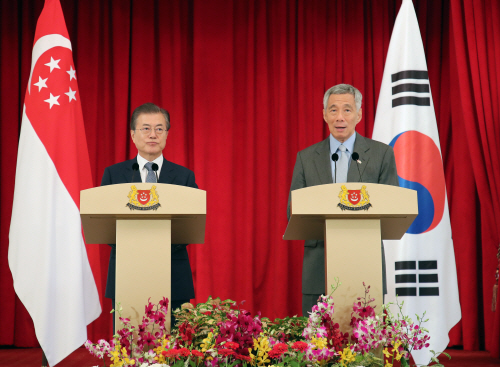 President Moon Jae-in and Singapore Prime Minister Lee Hsien Loong hold a joint press conference at the Istana Presidential Palace in Singapore on July 12. Moon is on a three-day visit to Singapore./ Source: Yonhap News

By AsiaToday reporter Joo Sung-sik
President Moon Jae-in, who is on a state visit to Singapore, has expressed cautious optimism on denuclearization talks between the U.S. and North Korea.
President Moon held talks Thursday with Singaporean President Halimah Yacob and Prime Minister Lee Hsien Loong and exchanged views on the ongoing U.S.-North Korea talks.
During the talks, Moon said that negotiations between North Korea and the United States are on the right track. "No one can be sure of a positive outcome yet, but I carefully predict that North Korea-U.S. negotiations may produce enough success if North Korea implements its complete denuclearization and international community join their efforts to guarantee North Korea's security," he added.
"The agreement between the North and the U.S. has been made well, but working-level negotiations to implement concrete action plan may face difficulties and take time," Moon said. "It was symbolically shown in the outcome of U.S. Secretary of State Mike Pompeo's recent visit to Pyongyang."
"There are mixed evaluations about ongoing negotiations between the North and the United States, but I believe they have entered a normal process and that detailed working-level negotiations have started," Moon said. "There have been questions if the denuclearization North Korea has been talking about was the same as the denuclearization the U.S. and South Korea have been talking about. But Secretary Pompeo's Pyongyang visit has confirmed that there is no difference between the two on the concept of denuclearization."
"North Korea criticized the U.S. in a statement issued by its foreign ministry, but what the statement contains is a complaint about it sincerely taking all practical measures and the U.S. not taking corresponding measures," Moon said. "I believe it is part of the North's negotiating strategy that can be often seen in negotiations."
"Another important point is that what North Korea is demanding from the U.S. is not the removal of sanctions or economic compensation like in the past but the termination of their hostile relationship and establishment of trust. The North's negotiation attitude is significantly different from that of the past," Moon said.
Singaporean President Halimah said Singapore and other members of the Association of Southeast Asian Nations (ASEAN) will continue to support and assist President Moon and his country in their efforts to build peace.
Moon expressed gratitude to the Singaporean government, saying, "The historic U.S.-North Korea summit was held in Singapore just a month ago, and Singapore has become a historic landmark that has helped opening a new era of peace on the Korean Peninsula."