By Hong Soon-do, Beijing correspondent, AsiaToday
The U.S.-China trade war, which officially started last week, is escalating as expected. Trade tensions are rising between the two countries as China vowed Wednesday to retaliate against the Trump administration's latest threat to slap 10% tariffs on an extra $200bn worth of Chinese imports. As a result, the economic game of chicken is likely to become more intense in the future unless either side steps back for negotiations.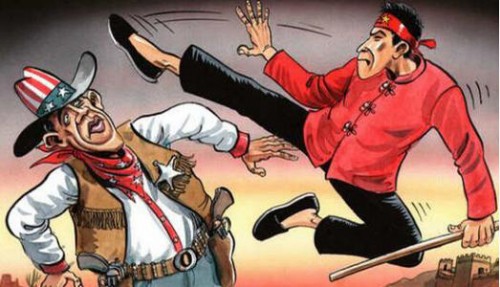 A cartoon depicting the U.S.-China trade war. The war is unlikely to end soon./ Source: Search engine Baidu

According to Xinhua news agency and other state-run media outlets on Wednesday, China said it would respond to the latest US moves. "The United States has unveiled the list of tariffs in an escalating manner. This is totally unacceptable, and we express our solemn protest against this," China's Commerce Ministry said in a statement. "China will seek support from the international community to jointly defend free trade and the multilateral trade regime and fight trade bullying," the ministry said. It added that it would lodge an additional complaint with the WTO over the unilateral acts of the United States.
However, China did not immediately give details about its retaliatory measures unlike last week, when Washington imposed 25% tariffs on $34bn of Chinese imports. "Beijing seems to have failed to expect Washington's decision to hit tariffs on an $200bn worth of its 6,031 product lines. I think Beijing was so shocked that it only promised to retaliate," said a Beijing source familiar with bilateral trade relations. However, it seems that China will have to prepare specific measures soon. China might try to impose sanctions against US companies in China, or ban group tours to the United States.
The possibility of the trade war escalation is obviously having a negative impact on the global financial markets, including stock markets. In fact, stock markets in New York, Japan, China, Taiwan, and Hong Kong slumped Wednesday as trade war fears rocked. "Fears are spreading in the Chinese stock market. It's because pessimism prevails that China will not be able to cope with US tariffs," Shu Feng, a private investor in Beijing, said.