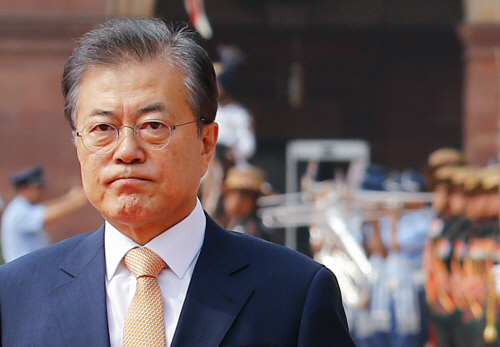 President Moon Jae-in has ordered Tuesday the launch of an independent investigation into the Defense Security Command (DSC) for its alleged proposal for declaring martial law in the midst of peaceful candlelight rallies last year, according to Cheong Wa Dae spokesman Kim Eui-keum./ Source: Yonhap News

By AsiaToday reporter Son Ji-eun
President Moon Jae-in has ordered Tuesday the launch of an independent investigation into the Defense Security Command (DSC) for its alleged proposal for declaring martial law in the midst of peaceful candlelight rallies last year that helped lead to the ouster of former President Park Geun-hye over corruption charges.
"The probe team will be composed of military prosecutors who are unrelated to the Army or the DSC. It will work as an independent counsel, not subject to direction from any military officials, including the defense minister," said Cheong Wa Dae spokesman Kim Eui-keum. President Moon also ordered the investigation team to probe allegations that the DSC had monitored the families of victims of the Sewol ferry tragedy.
The reason the president ordered the launch of an independent investigation team is because there was a possibility for a wide range of former and incumbent defense officials to have been involved in it and because of the fact that the investigation did not make any progress even after the incumbent chief of the DSC reported the existence of the martial law related document. Besides, it has been pointed out that the it is not appropriate for the existing investigation team of the National Defense Prosecutors' Office to investigate the case to eliminate all suspicions.
"It is inevitable to disclose the facts and deal with them according to the law," said Prime Minister Lee Nak-yon. "The relevant ministries should start the work." The prime minister called for a thorough probe into the allegations at a Cabinet meeting. "The Ministry of National Defense should complete the reform of the DSC," Lee said.
Under the special instructions of President Moon, Defense Minister Song Young-moo said in an urgent statement, "In consideration of the gravity and seriousness of the case, the Ministry of National Defense plans to carry out the investigation strictly by forming an independent special probe team separate from the existing military prosecution."
The DSC said in a statement that the reported behavior is "very regrettable" and that it will undergo the investigation with an active and responsible attitude so that clear facts can be discovered. It added it will do its best to focus on its original mission.
There was a mixed reaction among political circles. The ruling Democratic Party (DP) welcomed the president's investigation order, saying, "The seriousness of the case is indescribable as the martial law scenario is considered an attempt to destroy constitutional government and to subvert the state, which is beyond the monopoly of government affairs." On the other hand, the main opposition Liberty Korea Party (LKP) expressed concerns about the political approach, saying, "No part of the document shows any intentions for coup through garrison decree or martial law."