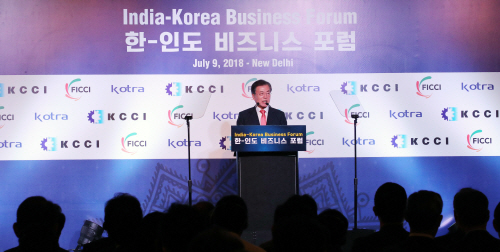 President Moon Jae-in gives a keynote speech at the South Korea-India business forum in New Delhi, on Monday. He proposed the so-called "3P Plus Partnership" for future cooperation between the two countries./ Source: Yonhap News

By AsiaToday reporter Joo Sung-sik
On the second day of his four day visit to India, President Moon Jae-in continued to focus on business and economic cooperation in order to secure a bridgehead for "New Southern Policy", by attending a joint business forum and a opening ceremony of Samsung's smartphone factory in Noida. In particular, Moon's first encounter with Samsung Electronics Vice Chairman Lee Jae-yong at the Noida plant inauguration ceremony drew a great deal of attention as it could affect the Moon Jae-in administration's economic policy.

Moon attended the India-Korea business forum held in New Delhi, where he gave a keynote speech on the idea of Korea-India economic cooperation to formulate the New Southern Policy.
During the forum, Moon said there is a potential for further economic cooperation in light of the traditionally friendly relationship between South Korea and India. He proposed the so-called "3P Plus Partnership" as a way for future-oriented cooperation. The "3P Plus Partnership" is Moon's vision to strengthen future cooperation for the 4th Industrial Revolution added to the existing "Peace, Prosperity, and Peace".
To this end, the president suggested that South Korea and India should cooperate with each other in building manufacturing and infrastructures, expanding future technology cooperation, and strengthening expansion of trade. Moon's proposal to India is expected to serve as an opportunity to further refine and accelerate the New Southern Policy as India is emerging as a key partner for creating new growth engines for Korean companies.
Following the forum, Moon made a stop at the opening ceremony of a new factory of Samsung Electronics in Noida, northern India. Prime Minister Narendra Modi also joined Moon to attend the ceremony to express his commitment to economic cooperation between the two countries.
What drew attention is that Samsung Vice Chair Lee showed the two heads of state the new Noida production line during the ceremony. Lee explained that Samsung recently launched the Noida factory to expand the smartphone market in India and to respond to the export market.

In his congratulatory address, Moon said the Noida factory is a true win-win cooperation model, with over 50 South Korean and Indian parts companies working together. "If India's young population, geographical advantages, and basic science and technology capabilities are combined with South Korea's light and heavy industries, advanced information technology, the two countries could be successful partners," Moon said.