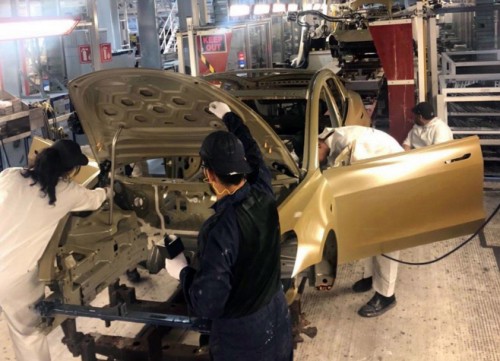 Source: UPI, Yonhap News

By AsiaToday reporter Jisu Kim
The trade dispute between the United States and China that led both countries to announce high-rate tariffs on each other's products is now spreading to Canada and the European Union. It will be interesting to see whether a dramatic compromise will be reached between the two world economic powers before a wave of tariffs comes into effect on July 6, or the whole world will be swept away by the trade war.
The hot potato in the intensifying trade disputes between the United States and the world is the cars. U.S. President Donald Trump is threatening to impose global auto tariffs as his biggest weapon to extract concessions from trading partners.
"You know, the cars are the big one," Trump told Fox News in an interview broadcast Sunday. "We can talk steel, we talk everything. The big thing is cars." The Wall Street Journal (WSJ) said that Trump's remarks suggest that the recent steel tariffs were a dry run for a bigger fight on cars.
The Trump administration is currently reviewing to impose a 20 percent tariff on imported cars. Trump administration officials said they have not yet decided to impose auto tariffs, but suggested they are considering to do so before the November midterm elections. The final decision is expected to be made soon after a series of hearings.
But some of Trump's supporters are worried that Trump's tactics may worsen the U.S. economy, which has been already hit by retaliatory measures. In fact, China plans to impose an additional 25% tariff on U.S. auto imports on Friday if it fails to come to an arrangement with the U.S.. in a speech at the Boao Forum in April, Chinese President Xi Jinping pledged that he would lower tariffs on car imports. As a result, China cut tariffs on car imports to 15 percent from 25 percent starting on July 1. However, China is preparing to hit an additional 25 percent tariff on U.S. auto imports this Friday.
If such measure comes into effect, American automobile brands including Tesla, Jeep, and Lincoln will be directly hit. German car brands, including BMW and Benz, that have been manufacturing vehicles in their U.S. factories to export to China will be hit as well. It's not just China. The European Commission has sent a warning letter to the U.S. Department of Commerce on June 29 saying that about $294 billion dollars of U.S. exports, or 19% of last year's U.S. exports, could be subject to countermeasures in response to car tariffs.

A wave of Canadian tariffs on U.S. goods also came into effect on July 1. Canada revealed on June 29 that it will impose retaliatory tariffs on American goods including Florida orange juice, ketchup and Kentucky bourbon. "This trade action was the strongest Canada has taken since World War II," said Canadian Foreign Minister Chrystia Freeland. "We will not back down," she said.
The U.S. car market is much bigger than the steel market, which Trump has previously targeted for tariffs. The U.S. imported about $29 billion in steel in 2017, compared with about $192 billion in cars. The car industry accounts for almost a quarter of the country's $500-billion-plus trade deficit. According to the Center for Automotive Research (CAR), 44% of the vehicles sold in the U.S. last year were imported.