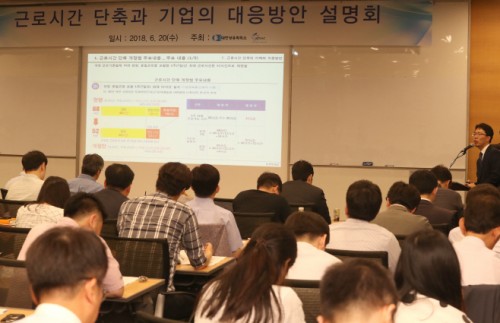 South Korea has implemented the 52-hour maximum workweek system starting this month. The picture shows the executives in charge of business and personnel affairs attending a briefing session on "Measures to Reduce Work Hours" held at the Korea Chamber of Commerce in Seoul on June 20./ Source: Yonhap News

By AsiaToday reporter Jang Min-seo
South Korea has kicked off its 52-hour maximum workweek system on Sunday. The new change, which was implemented under the revised labor standard law, is expected to have a significant impact on many employees' work-life balance as much as the five-day-workweek introduced in 2004.
The new system will be effective for companies with more than 300 employees, public institutions, government offices, and local governments starting Sunday. Businesses with 50-299 employees should implement the regulation starting January 1, 2020, and those with 5-49 should do so on July 1, 2021.
The Ministry of Labor expects companies, which should implement the 52-hour maximum workweek, to adopt the new system without too much difficulty. According to a survey conducted by the ministry on 3,627 businesses with more than 300 workers, 59 percent had already implemented the 52-hour maximum workweek. Many large corporations, affiliates, and public institutions seem well prepared. However, small and medium-sized enterprises (SMEs) are struggling to prepare for the new working system as they have been facing many difficulties, such as trouble hiring new employees.
Those who make their employees work more than 52 hours weekly can now face up to two years in prison or a fine of up to 20 million won (US$17,945). Given the circumstances, the labor ministry has set a six-month grace period for those companies to take their time to implement the changes and allow the system to land softly. "The six-moth grace period does not mean that the government will close its eyes on illegal acts. Companies that can implement the lower working hours should implement it immediately, and those that cannot enforce the new system immediately should prepare well during the grace period," said Kim Young-joo, Minister of Employment and Labor.
If the new system lands smoothly, the government expects that as many as 1.03 million workers who currently work over 52 hours a week would see their average weekly working hours reduce by at least 6.9 hours and that 140,000-180,000 jobs would be created in return.
However, there will be inevitably some confusion in many workplaces for a while as the system has been just adopted. Some point out that the government is too hasty to shorten work hours in such a short period of time. Regarding this, Minister Kim said, "We have been discussing this since the 19th National Assembly in 2013, and both the ruling and the opposition parties agreed with this by then. The bill passed the parliament back in February, so we had little time to prepare for this. But we don't believe it came out overnight."
Some companies want a more flexible application of the system as workloads can be heavier some weeks and quieter. Companies engaged in seasonal industries or exports, where concentrated work is inevitable, are demanding to increase the unit period of operating flexible working hours. A flexible working hours system is a working system that allows working hours to be extended in busy times but reduced in slack times so that the average working hours over a given period of time conform to the statutory working hours.
The labor ministry is being cautious about this. The ministry sees that the system is not applied enough in the labor market as only 3.4 percent of companies are utilizing it. The ministry plans to distribute manuals of flexible worker system so that more companies use the system, and conduct a survey later this year to analyze the present condition while promoting to improve the system by gathering opinions from labor and management, as well as experts.
"Shortening working hours is an important change to the labor market, and it is natural that there are concerns," Minister Kim said. "All the subjects of labor and management should gather their efforts to make the new system land smoothly, which will allow workers enjoy a healthy and leisurely life and companies increase their productivity while creating jobs for young people."