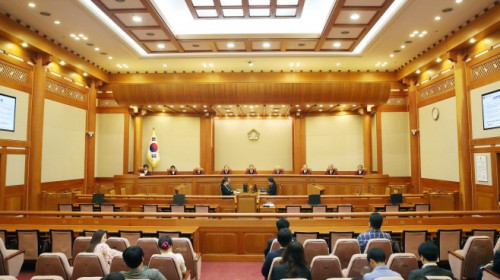 The judges of the Constitutional Court/ Source: Yonhap News

By AsiaToday reporters Choi Suk-jin & Kim Bum-joo
Jehovah's Witnesses and other conscientious objectors will be given the option to perform an alternative service of a civilian nature instead of joining the military.
Although the Constitutional Court's decision has shed some light on the issue of hundreds of enrollment objectors getting imprisoned in the country each year on grounds of conscience or religious beliefs, it is also likely to trigger a heated debate on fairness between alternative service and active service in the process of revising the law.
The Constitutional Court on Thursday ruled that Article 5 of the country's Military Service Act is unconstitutional because it does not offer alternative measures for the objectors. The nine-judge panel, headed by Chief Justic Lee Jin-sung, delivered the decision by six votes to three.
"The number of conscientious objectors is not statistically significant to pose a threat to maintaining defense readiness," the court said.
"Conscientious objectors must accept enormous disadvantages, including their prison terms of at least 18 months and restrictions in public sector employment," the court added.
However, the Constitutional Court ruled that a revision to the Military Service Act that lists alternative service routes must be submitted by Dec. 31, 2019. Otherwise, the law at issue will be rendered null and void starting Jan. 1, 2020.
Regarding Article 88, Clause 1, Sub-clauses 1 and 2, which determine the punishments on conscientious objectors, the court ruled it is not against the highest law to criminally punish the objectors to military service. The judges delivered the decision by four votes to four. One judge rejected making a judgment for procedural reasons. The ruling marks the fourth following 2004 and 2011 to confirm criminal punishment for objectors.
"The punishment clause is intended to secure military resources and give fairness to military services. It is legitimate to enforce military duty through criminal punishment," the court said.