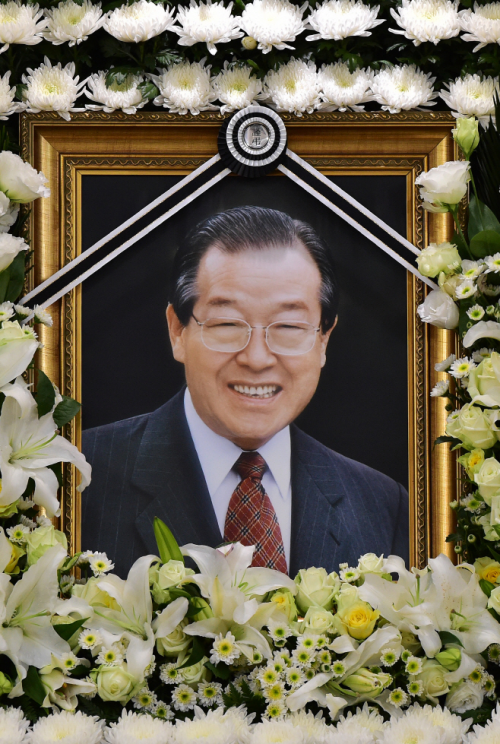 A portrait of late former Prime Minister Kim Jong-pil is surrounded by condolence flowers at his memorial altar at Asan Medical Center in Seoul on June 23./ Photographed by AsiaToday reporter Song Eui-joo

By AsiaToday reporter Lim Yoo-jin

Former prime minister Kim Jong-pil died on Saturday morning at the age of 92. He was sent from his home to Soonchunhyang University in Seoul, but was confirmed dead before the arrival, according to the hospital. He is believed to have died of complications due to old age.
Kim was a two-time former Prime Minister, the founder of the country's spy agency, and a nine-term legislator, dominating South Korea's modern politics for decades. He was considered one of the most influential politicians of the country along with former Presidents Kim Young-sam and Kim Dae-jung in a period referred to as the "Three Kims" era. He was also widely known as the "kingmaker" and the "perennial No. 2 man" as he helped the other two Kims bring to power, but failed to become top leader himself.
At the age of 35, Kim, husband of a niece of former President Park Chung-hee, took part in the 1961 military coup that brought Park into power. During Park's rule, Kim founded and led the Korean Central Intelligence Agency. In the process, he developed political skills. "I don't even step on the shadow of the president," he once said, a remark that explains his political longevity.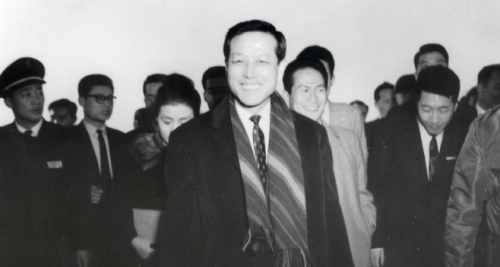 Former prime minister Kim Jong-pil died on Saturday at 8:15 a.m. at the age of 92. The picture shows Kim Jong-pil, the then head of the Central Intelligence Agency, when he went forward as an ambassador for the treaty between Korea and Japan in 1962./ Source: Yonhap News

Kim Jong-pil played kingmaker to help Kim Young-sam and Kim Dae-jung win their presidential elections in 1992 and 1997, respectively. During this process, he conducted political negotiations with the two other Kims, contributing to their success in the presidential elections. He successfully arranged so-called the "DJP" (Kim Dae-jung and Kim Jong-pil) union and achieved a horizontal regime change, which was considered the first peaceful transfer of power to an opposition political party through a fair election.
However, Kim Jong-pil and Kim Dae-jung's coalition fell apart in 2001 because of a dispute over constitutional reform of the parliamentary system and approval of resigning then Unification Minister Lim Dong-won. He attempted to make a comeback with the 17th general election in 2004. But he retired from politics, taking responsibility for his party's defeat in the election in the year.
Kim is survived by a son and a daughter. His memorial altar is set up at Asan Medical Center. He will be laid to rest in his family tomb in central South Korea after five days of mourning.