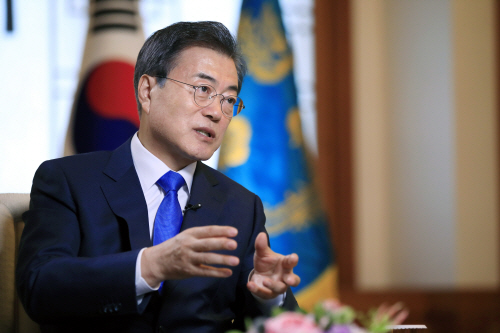 President Moon Jae-in speaks in an interview with Russian news outlets at his office on June 20, one day before his state visit to Russia for a bilateral summit with Russian President Vladimir Putin. The interview was jointly held by Russian news agency TASS, daily Rossiyskaya Gazeta and the Rossiya-24 TV channel./ Source: Cheong Wa Dae

By AsiaToday reporter Son Ji-eun
President Moon Jae-in said Wednesday that a more concrete action plan by North Korea and swift reciprocal measures by the United States will be needed to denuclearize the Korean Peninsula.

Moon made the remark during an interview with Russian media outlets at his office on Wednesday, one day before his state visit to Russia beginning on Thursday for a summit meeting with Russian President Vladimir Putin.
Moon said the results of the US-North Korea summit in Singapore earlier this month was a great success that was greater than he had expected. "The North Korean-US standoff has lasted for 70 years. Now the two nations made a grand historical achievement that settles such hostilities and moves to a new peace regime," he said.
"As concrete steps, North Korea promised complete denuclearization, and the United States promised to provide security guarantees to the North," Moon said. "The remaining task to do would be a complete, rapid implementation of the Kim-Trump agreement," he said. "Furthermore, Seoul and Washington decided to suspend their major military drills. North Korea will probably return the remains of US troops soon."

Regarding North Korean leader Kim Jong-un, Moon said, "Despite his age, it seemed to me that he is very frank and straightforward. He has always treated me as an elder, with respect. We had long, frank conversations with him."
"Chairman Kim's denuclearization commitment was clear. He expressed his willingness to abandon all nuclear programs and focus on economic build-up if Pyongyang can get security guarantee in return for denuclearization," Moon said.
"It is our firm commitment that there should not be another war on the Korean Peninsula," he said. "South Korean people's aspiration for peace is being realized. Russia and other neighboring countries' support and encouragement served as great strength."
President Moon, who will depart to Russia from Seoul Airport in Seongnam on Thursday, will deliver a speech at the lower house of Russia's Federal Assembly and have a summit with President Putin. He will also cheer on the South Korean national football team in their World Cup match against Mexico before returning back to Seoul on June 24.