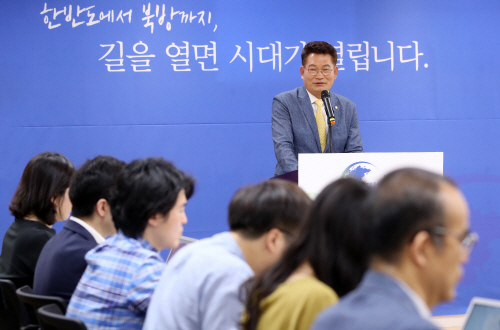 Song Young-gil, chief of the Presidential Committee on Northern Economic Cooperation, speaks at a press conference in Seoul on June 15./ Source: Yonhap News

By AsiaToday reporter Son Ji-eun
The peace mood on the Korean Peninsula is accelerating President Moon Jae-in's so-called New Northern Policy and the three-way cooperation among the two Koreas and Russia. Moon will meet Russian President Vladimir Putin to strengthen cooperation between the countries during his four-day state visit to Russia from Thursday to Sunday. In addition, South Korea's Presidential Committee on Northern Economic Cooperation (PCNEC) announced the roadmap of the New Northern Policy and introduced economic projects with countries north of South Korea.
The PCNEC decided on Monday to push for joint projects with Russia, such as connecting the railroads from the eastern coast of Korea to the Eurasian Continent and building a gas pipeline from Russia's Far East to South Korea through North Korea. PCNEC chairman Song Young-gil discussed the strategy of the New Northern Policy and major issues with government agencies, including the Ministry of Strategy and Finance, the Ministry of Foreign Affairs, the Ministry of Unification, and the Ministry of Trade, Industry, and Energy, and related institutions, such as Korea Export-Import Bank, Korea Electric Power Corporation, Korea Gas Corporation, and Korea Railroad Corporation.
The PCNEC confirmed 14 major projects, including the connection of railroads and gas pipeline, establishment of an integrated European distribution network, building of a Northeast Asian supergrid, development of new shipping and shipbuilding markets through expansion into Arctic routes, and increased access to financing for companies involved in northern efforts.
"Many things have changed since the establishment of the PCNEC last December," said Song at a press conference held ahead of the meeting. "A situation has taken shape where we can join Russia and other northern neighboring countries in pursuing projects we couldn't in the past because of the situation on the Korean Peninsula." He also stressed that the changing geopolitical situation surrounding the Korean Peninsula has provided momentum for northern economic cooperation, which is expected to accelerate cooperation.
Cheong Wa Dae Trade Secretary Lee Tae-ho said, "If North Korea's denuclearization makes progress and sanctions on the North are eased, it would be able to participate in cross-border projects in logistics, energy and economic cooperation zones involving South Korea, Russia, China and other neighboring countries."
Moon's state visit to Russia is also expected to support the New Northern Policy. "As conditions are set with the inter-Korean summit and the North Korea-U.S. summit, there is a basis for the three-way cooperation involving the two Koreas and Russia," said presidential economic adviser Kim Hyun-chul during a press briefing. "Since the agreement on 'nine bridges' has begun at the Eastern Economic Forum last year, concrete action plans and details of the collaboration will be confirmed."