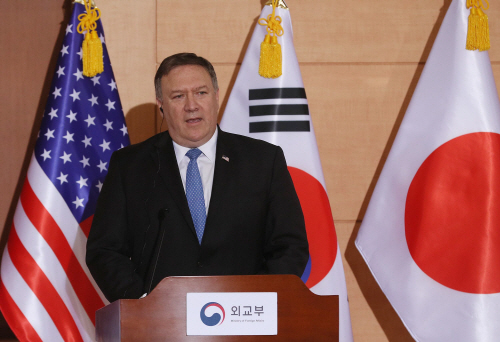 U.S. Secretary of State Mike Pompeo answers to a question during a joint press conference with South Korean Foreign Minister Kang Kyung-wha and Japanese Foreign Minister Taro Kono following their meeting at Foreign Ministry in Seoul on June 14./ Source: Yonhap News

By AsiaToday reporters Joo Sung-sik & Heo Go-woon
U.S. Secretary of State Mike Pompeo, who visited South Korea to work together on the North's denuclearization after the June 12 summit, made clear Thursday that there will be no economic sanctions relief for North Korea until its complete denuclearization. However, he viewed North Korean leader Kim Jong-un's commitment to denuclearization at the U.S.-North Korea summit and asked South Korean President Moon Jae-in to play a leading role for it.
Pompeo held talks with South Korean Foreign Minister Kang Kyung-wha and and Japanese Foreign Minister Taro Kono at Foreign Ministry in Seoul on Thursday. He shared the outcome of the first-ever historic U.S.-North Korea summit and closely coordinated plans for the denuclearization of the Korean Peninsula.
"We believe that Chairman Kim Jong-un understands the urgency of the timing of completing this denuclearization and understands we must do this quickly," said Pompeo at a joint press conference after the talks. "And the sanctions relief cannot take place until such time as we have demonstrated that North Korea has been completely denuclearized."
His remarks seems to have stressed that North Korea would take its denuclearization measures quickly in accordance with a joint statement of the U.S.-North Korea summit, which promised to implement denuclearization in exchange for security guarantees.
Reflecting such awareness, Pompeo provided a specific timetable for North Korea's implementation of denuclearization measures. "We're hopeful that we achieve major nuclear disarmament by North Korea within the next 2-1/2 years," he told reporters on Wednesday after making a visit to Seoul. He added that he would like to achieve it within Trump's current term, which ends in January 2021.
When asked why the words "verifiable" and "irreversible" were not in the summit joint statement, in the context of denuclearization, Pompeo replied, "It's in the statement. Because complete encompasses verifiable and irreversible. I suppose you could argue semantics, but let me assure you that it's in the document."
Ahead of the talks, Pompeo met with President Moon Jae-in at the presidential Cheong Wa Dae to explain the outcome of the Trump-Kim summit. He said that the United States reaffirmed Chairman Kim's commitment to denuclearization at the Singapore summit. He also asked President Moon to closely consult the Chairman in the process of North Korea's denuclearization and the development of inter-Korean relations.
In response to Pompeo's suggestion, Moon said he would "endeavor to create a virtuous cycle where the development of the relationship between the two Koreas and between the North and the United States mutually reinforce each other, and to achieve the complete denuclearization on the Korean Peninsula at the earliest date possible through active communication with the North."