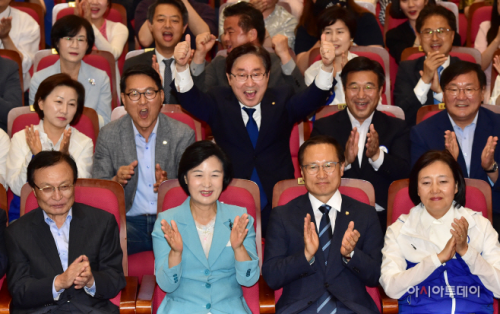 Rep. Choo Mi-ae, chief of the ruling Democratic Party of Korea, and the leadership applaud at the National Assembly as exit polls predict a landslide victory for the party in Wednesday's local elections./ Photographed by reporter Lee Byung-hwa (photolbh@)

By AsiaToday reporter Park Ji-sook
The June 13 local and parliamentary by-elections ended in a sweeping victory for the ruling progressive party, which is likely to further strengthen Moon Jae-in's peace and reform drive while putting intense pressure on the conservative opposition party to reform after a political scandal that ousted Moon's predecessor, Park Geun-hye.
The ruling Democratic Party of Korea won a landslide victory in the 7th local elections held on Wednesday. It won 14 of the 17 metropolitan and governor posts in the elections, according to the ballot counting results as of 6:30 a.m. on June 14.
It also grasped 11 out of 12 legislative seats in the parliamentary by-elections while the main opposition Liberty Korea Party secured only one seat. In the elections to choose the nation's new chief education administrators, liberal candidates won in 13 out of 17 cities and provinces.
In the local elections that took place in the sophomore year of the Moon Jae-in administration, the ruling DP's candidates swept over the metropolitan areas, including the cities of Seoul and Incheon, and Gyeonggi Province.
The ruling party's candidates also won in other major cities and provinces - including the cities of Busan, Gwangju, Daejeon, Ulsan, and Sejong and the provinces of Gangwon, North and South Chungcheong, North and South Jeolla, and South Gyeongsang.
The LKP ended up only winning only two of its strongholds - the city of Daegu and North Gyeongsang Province. In Jeju, Won Hee-ryong, an independent and former member of conservative parties, kept his seat.
In the Seoul mayoral race, incumbent Mayor Park Won-soon clinched a third term with 52.8 percent, beating the LKP contender Kim Moon-soo by a wide margin.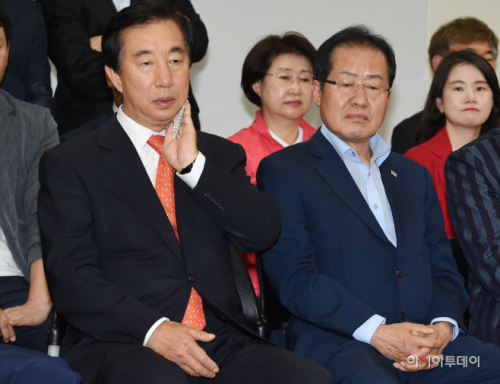 The Liberty Korea Party leader Hong Joon-pyo sorrowfully watches the results of the exit polls on Wednesday./ Photographed by reporter Kim Hyun-woo (cjswo2112@)

In the Gyeonggi Province governor election, DP candidate Lee Jae-myung won 56.4 percent, over LKP candidate Nam Kyung-pil's 35.6 percent. In the Incheon mayoral race, DP candidate Park Nam-choon scored a victory against LKP contender Yoo Jeong-bok, winning 57.7 percent of votes.
The ruling party's overwhelming victories in North and South Chungcheong were significant since they are considered swing states. The DP swept in North Chungcheong (Lee Si-jon with 61.2 percent), South Chungcheong (Yang Seung-jo with 62.4 percent), Sejong (Lee Choon-hee with 71.3 percent), and Daejeon (Heo Tae-jeong with 56.4 percent).
In Gangwon, incumbent Choi Moon-soon of the DP won his race with 64.8 percent, beating the LKP contender Jung Chang-woo by nearly 30 percent. The DP also won an overwhelming victory in Gwangju (Lee Yong-sup with 84.1 percent), South Jeoola (Kim Young-rok with 77.0 percent) and North Jeolla (Song Ha-jin with 70.5 percent).
In particular, the DP's big victory in the conservative strongholds Busan, Ulsan, and South Gyeongsang shows that regionalism is shaking in the country.
In the Busan mayoral election, DP candidate Oh Keo-don easily defeated LKP contender Suh Byung-soo by nearly 20 percent. In the Ulsan mayoral race, Song Chul-ho of the DP beat Kim Ki-hyun of the LKP by nearly 10 percent.
In South Gyeongsang, DP candidate Kim Kyung-soo took a victory against LKP contender Kim Tae-hol, winning 52.6 percent of votes.
Many observers say that the ruling party's unprecedented victory confirms Moon's high approval rating. The DP is expected to strongly support the Moon administration's reform policies and its drive to increase the autonomy of local governments.

On the other hand, the LKP failed to win an overwhelming victory unlike the past in Daegu, a traditionally conservative stronghold, although its candidate Kwon Young-jin defeated DP candidate Im Dae-yoon.
In the North Gyeongsang governor election, Lee Chul-woo of the LKP was elected with 52.1 percent, but DP candidate Oh Joong-ki also earned a significant number of votes with 34.3 percent.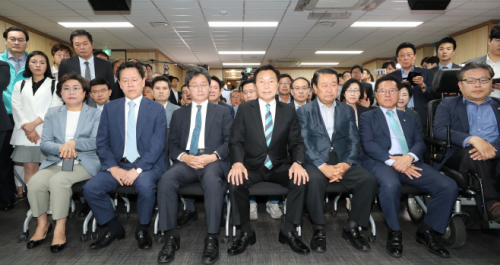 The leadership of the minor opposition Bareunmirae Party, including co-heads Yoo Seung-min and Park Joo-sun, remain disappointed upon hearing the exit poll announcement on Wednesday./ Source: Yonhap News

Incumbent liberal education superintendents swept elections in major areas around the nation. Incumbent superintendent Cho Hee-yeon (46.6 percent) in Seoul, Lee Jae-jung (40.8 percent) in Gyeonggi Province, Kim Suk-joon (47.8 percent) in Busan, Kim Byung-woo (57.1 percent) in North Chungcheong, Kim Ji-chul (44.1 percent) in South Chungcheong, Kim Seung-hwan (40.1 percent) in North Jeolla, Park Jong-hoon (48.4 percent) in South Gyeongsang, Choi Gyo-jin (50.1 percent) in Sejong, and Min Byung-hee (54.3 percent) in Gangwon Pronvince won their elections as education superintendents. Jang Hwi-gook (38.0 percent) in Gwangju, Kang Eui-hee (40.7 percent) in Daegu, Im Jong-sik (28.2 percent) in North Gyeongsang, and Seol Dong-ho (53.0 percent) in Daejun also were elected after a fierce competition.
In the parliamentary by-elections, the ruling party clenched 11 of the 12 legislative seats, while the LKP secured only one seat in Gimcheon of North Gyeongsang Province. This means the liberal party now controls 130 National Assembly seats while the LKP controls 113 seats, widening their gap with the DP by 17 seats.
The local election turnout was 60.2 percent, the highest in 23 years.